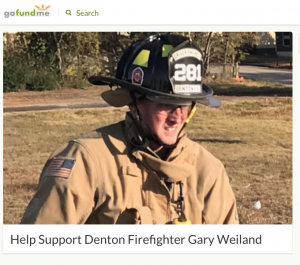 A trap shoot event later this month will raise funds for a Denton firefighter and his family after his leg was amputated.
Gary Weiland has been a firefighter and paramedic for the city of Denton for seven years, according to a news release, but he recently had to have his left leg amputated below the knee because of blood clots. Two years ago, he had the knee replaced because of years of wear and tear from playing sports, and then Thanksgiving last year, the knee began to swell while throwing a football around. He couldn't feel his foot, and he was taken to the hospital, where the doctors said clotting was causing the circulation issue. Each time they eliminated a clot, another would form. Weiland underwent 13 hours of surgery, but the problem couldn't be fixed, and doctors resorted to the amputation.
"I am just trying to wrap my head around this whole thing, because I've been fine, I play any sport I want, doing everything, no problem at all," Weiland said, "and then out of nowhere, boom, they had to amputate my leg."
Weiland said he aims to get back to work fighting fires, and he wants to help other amputees, especially kids.
"Something good is going to come out of this," he said. "I am going to to get back on two feet and get back to where I was before."
Weiland's wife, Shanna, is a teacher and coach at a middle school in Denton, and they have four children — three sons and one daughter — between the ages of 10 and 16.
A fundraising event will be held later this month at an outdoor shooting range in Decatur to benefit the Weiland family and Denton First Responder Funds. The Gary Weiland Benefit Trap Shoot will be held on the afternoon of May 18. For the cost of $100 per shooter, participants get a 100-clay course, Happy Hour and raffle ticket. You can donate an auction item or cash donation, or sponsor a meeting room, team or station.
For more information, contact Tim Schoendorf at [email protected] or 940-391-1397. Click here to register.