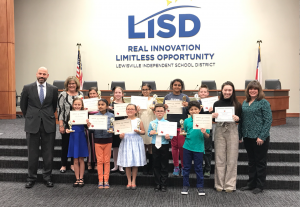 Last month, the Kappa Theta Chapter of the Delta Kappa Gamma Society celebrated Lewisville ISD student writers in the third, fourth and fifth grades.
The young writers were awarded first and second place in both Narrative and Poetry Writing for the 2019 Writing Project. In addition, Sydnie Nguyen from Lewisville High School was awarded the 2019 Juanita Harmon Grant in Aid for future teachers.
This annual writing contest encourages students to write and continue to explore their writing skills.   The following students were awarded: (3rd Grade) Srividya Siripurapu of Liberty Elementary, Jon Stephens of Bluebonnet Elementary, Kinley Harycki of Timber Creek Elementary, and Iris Lewis of Liberty Elementary.  (4th Grade) Jena Lewallen of Flower Mound Elementary, Anousha Kolatkar of Bridlewood Elementary, Junya Shah of Homestead Elementary, and Brayden Maughn of Valley Ridge Elementary. (5th Grade) Siddarth Vyakaranam (not pictured) of Bluebonnet Elementary, Scarlett Bair (not pictured) of Forest Vista Elementary, Lilly Blackmon of Forest Vista Elementary and Tanish Vaidya of Bluebonnet Elementary.
Ms. Robyn Rucker is the Chair of the Delta Kappa Gamma Writing Competition. The ceremony was held at the LISD Bolin Center Board Room in Lewisville.