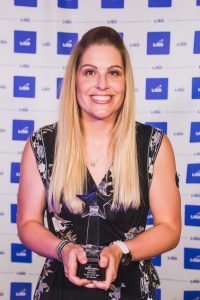 Bre Manuel, a third grade teacher at Timber Creek Elementary School in Flower Mound, was named the 2018-19 Lewisville ISD Elementary Teacher of the Year during last weekend's LISD Board of Trustees' 34th Annual Employee Recognition and Awards Banquet.
"I'm really excited and honored, and I feel very blessed," Manuel said in a LISD video during the banquet.
In the video, Timber Creek Principal Amy Acosta said that Manuel "is the real deal."
"Everything she does, she does from the heart," Acosta said. "She's one of the most passionate people that I know."
Doug Emery, who teaches at Career Center East, won Secondary Teacher of the Year.
Other winners at the banquet include:
Principal: Rachel Garrett, Valley Ridge Elementary; and Amy Boughton, Griffin Middle School
Assistant Principal: Laura Zamora, Hebron Valley Elementary; and Leslie Davenport, Briarhill Middle School
First-Year Teacher: Emily Becker, Lewisville Elementary; and Ashlyn Newell, Griffin Middle School
Child Nutrition Services: Charlene Luna, Homestead Elementary
Librarian: Trela Weesner, Briarhill Middle School