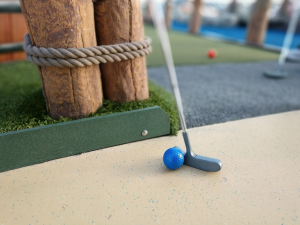 A local mini golf tournament fundraiser has been rescheduled.
Winning The Fight, a local nonprofit that supports youth and families struggling with drug addiction, had planned its eighth annual WTF Miniature Golf Tournament fundraiser for Tuesday evening, but the event was postponed because of severe weather. It has been rescheduled for 6-9 p.m. June 4, according to a WTF news release.
Organizers are expecting 350-400 people to attend the event, which will feature go-kart races, music, food and drink, prizes, a silent auction, raffle and, of course, mini golf. Admission is $25 for adults and $10 for kids under 16 years old. It will be held at Zone Action Park, 1951 Summit Ave. in Lewisville.
Click here for more information about the event, including how to register or become a sponsor.