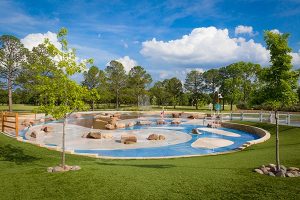 A Highland Village park's splash pad is opening for weekend use on Saturday.
Throughout May, the splash pad at Doubletree Ranch Park, 310 Highland Village Road, will be open Fridays through Sundays from 10 a.m. to 8 p.m., according to the city of Highland Village.
Then beginning May 27, the splash pad will be open every day through the end of August, and it'll return to just weekend hours for the month of September.
If you are looking for a local splash pad that is open during the week before May 27, check out the one at Heritage Park, 600 Spinks Road, in Flower Mound.