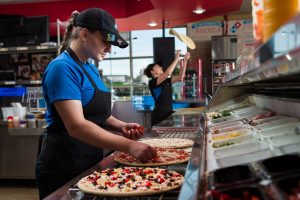 A Domino's restaurant could be coming soon to Argyle.
On Tuesday night, the Argyle Town Council approved a Specific Use Permit request to allow a drive-thru pickup window for a proposed restaurant/retail building on the east side of Hwy 377, just south of South Old Town Boulevard.
The site plan for the project will go before the Planning & Zoning Commission and Town Council in May. The proposed development is a 10,800-square-foot multi-tenant retail building, including 2,100 square feet for a Domino's restaurant. The pickup window, while classified as a drive-thru by town regulations, won't have a speaker or outdoor menu and will only be used by customers who are picking up the order they placed.
Todd Weaver of Weaver Commercial Real Estate said town staff requested them to re-work their original site plan.
"We took their suggestions, and then some, and I think they'll be real happy with it," Weaver said.
A Domino's location in Argyle has been a long time coming, even though the small town already has two pizza restaurants. Robert Gavitt, the owner of all the Domino's locations in Denton County, had had trouble finding a place to open one in the area until he bought the land for this building, Weaver said.  Weaver said the Domino's would employ about 30 local students right away.
As for the rest of the proposed building, Weaver said he's spoken to a real estate company, a chiropractic office and other medical offices about potentially leasing the remaining 8,700 square feet.
"One of the hardest things I can do is lease a building that doesn't exist," Weaver said, "but I've been pleasantly surprised with the phone calls I've already gotten. It shows that Argyle needs retail."
Weaver said if they receive approval from Council in May, they'll begin construction as soon as building permits are granted.
"I don't think we will be in till early next year," he said. "Domino's soon thereafter."