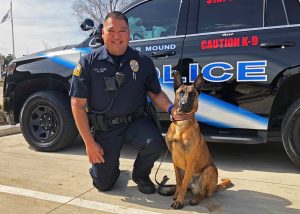 Flower Mound students entering seventh and eighth grade in the fall are invited to be a part of the Flower Mound Police Department Junior Police Academy this summer, according to a news release sent Friday by the town of Flower Mound.
While attending, participants will hear a variety of presentations on drug enforcement, criminal investigation, the K-9 unit and traffic stops, and they will receive a special behind-the-scenes tour of the police department, according to the news release. In addition, the SWAT team will conduct an exercise with academy students.
FMPD will host two JPA sessions from 8 a.m. to noon at the Police Department, 4150 Kirkpatrick Lane, for students who live in Flower Mound:
Session 1: June 17 – 21
Session 2: July 15 – 19
Space is limited for the program. Parents are encouraged to complete a registration form found online and return it to the Police Department. All registration forms are due by noon on May 31. Once a student has been accepted to JPA, a $20 registration fee is due on the first day of class. For more information, email Officer Buck or call 972-874-3357.