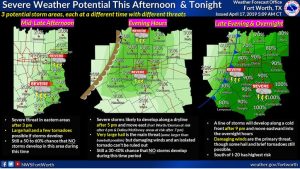 Severe storms could bring very large hail and damaging winds to Denton County on Wednesday night, according to the National Weather Service.
Around 5 p.m., severe storms are likely to develop just west of Dallas-Fort Worth and move east, reaching Denton County around 6 p.m., according to the weather service forecast. The main threat in these storms is very large hail, but damaging winds and an isolated tornado are unlikely but possible. There's a 30-40% chance that no storms develop around this time.
Then later Wednesday night, another line of storms is expected to develop just west of DFW around 9 p.m. and move east through North Texas. Damaging winds are the primary threat, but hail and brief tornadoes will be possible. Locations south of I-20 have the highest risk, and Denton has a 70% chance of storms.
The weather service urged residents to plan ahead so they aren't caught driving in one of these storms. If you are driving during a severe storm, don't stop under bridges or overpasses to protect yourself from hail because parked cars may block traffic and cause crashes, and bridges don't give protection from wind-driven hail.
The forecast for Easter weekend looks much more pleasant, with little to no threat for rainy weather, high temperatures in the 70s and 80s and lows in the 50s and 60s Friday through Sunday.