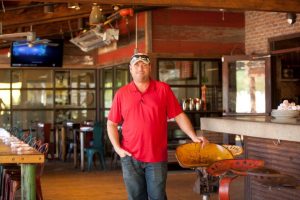 Five years after Argyle resident John (Sparky) Pearson and his Radical Hospitality Group partners opened their first restaurant in town, the team continues to grow and innovate.
Diners visiting Fuzzy's Taco Shop, Earl's 377 Pizza, Bumbershoot Barbeque and Kimzey's Coffee at the "foodie corner" of FM 407 and Hwy 377 can now order across those menus no matter which restaurant they are sitting in, or even off-site with an expanded catering service. Later this year, they'll be able to enjoy weekend brunches.
"What's really neat about what we have here in Argyle, with Earl's turning three on May 23rd and Bumbershoot turning two on April 5th, is really combining the concepts– where you can order Bumbershoot barbeque here at Earl's and pizza and pasta at Bumbershoot," said Radical Managing Partner/Catering Manager Jason Ramey.
The success of Fuzzy's, Earl's and Bumbershoot prompted Radical to try offering each other's food at all three places this winter. The idea worked so well Radical is looking to create a food court-like atmosphere to allow mixing of concepts to serve the diverse needs of its customers.
The new catering program makes the full menus available for weddings, birthday parties, small office gatherings and other events. It will feature pick-up and drop-off service, plus complete catering set-ups. The weekend brunch menu, which is expected to feature a Mimosa and Bloody Mary bar, is being worked on by executive chef Chad Kelley.
As Radical prepares for those new features, plans are on the drawing board for more eateries in Argyle.
"We've looked at a couple of different real estate opportunities here in town," Ramey said. "We purchased the piece of dirt on the north side of Johnny Joe's. We have an idea for a shopping center, including a fast-casual burger place of some sort."
Following the 2014 opening of Fuzzy's, the 2016 debut of Earl's and the 2017 introductions of Bumbershoot and Kimzey's, Ramey hopes that expansion comes to fruition in the next two- to three-years.
"We've really had the opportunity to see this corner come alive and be a part of it from day one," Ramey said.
The group opened its first restaurant called Lone Star Attitude (LSA) Burger in Denton in 2013 and added Barley & Board in that same city in 2015. The plan for 2019 is to expand in Denton and beyond.
This summer, they plan to open H2Oak, a barbecue restaurant in the old Travelstead building, and Sunago Bell on the top floor of the old Wells Fargo building in downtown Denton.
H2Oak will feature a large stage for live music and a 12,000-square-foot "backyard" green playground space that Radical envisions hosting whiffle ball leagues. Sunago Bell will include 5,500-square-feet of space to accommodate special events.
Also planned for a 2019 summer opening is a mix of Cajun and Creole items called Bongo Beaux's Bourre Palace & Cajun Kitchen in Celina. And, late this year and early next year, Radical hopes to launch the second LSA Burger and Barley & Board locations adjacent to Nebraska Furniture Mart in The Colony.
Pearson owns Elk River Investments Group, which focuses on the real estate side of the business; whereas Radical concentrates on the restaurants.
"The marriage of the real estate and the restaurant group has been very unique," said Radical Marketing Director Narciso Tovar. "What we've done, because of the real estate background, we've been able to look at this space like the (old) firehouse (in Argyle) and what kinds of things can we do that will work for this area. It's about where there's a need that we can really create something that's impactful, meaningful and serve the community as a whole."
This September, the parking lot between the Argyle restaurants will host the second annual Smoke Ring amateur barbeque cooking competition. The invitation-only event had eight entrants last year, with hopes to at least double it this year. Ramey and his staff will again contact area police and fire departments, but others can contact him to let him know they are interested in participating.
All proceeds go to a selected charity; which last year was the North Texas Food Bank.
"We provide all the meats and everything else, except the smokers and whatever rubs and sauces and spices they want to bring," Ramey said. "They vie for people's votes. It's an overnight campout, cook-out open to the public to taste and vote on the food they eat."
It's just another way Radical keeps providing options so that people living in or near Argyle don't have to leave town to enjoy good food and beverage.
"As Argyle grows and more rooftops come to town, we will too," said Ramey. "We'll have more to offer. We want everybody to have the option to stay close to home if they want. If they want to have a good meal close to home we're ready for them."