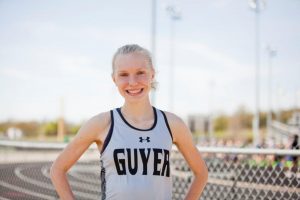 In 2018, Guyer High School freshman Brynn Brown finished second in the 1,600-meters at the State Track and Field meet just behind Quinn Owen, a graduating senior from Marcus High School.
That her top opponent graduated is the good news.
The not-so-good news is that finishing one-tenth-of-a-second behind Brown was Heidi Nielson, a fellow freshman from Katy Cinco Ranch, who ended up taking the bronze and she's back this season.
So, how does Brown feel about this turn of events? She is very practical.
"I would love to keep improving and to improve upon last season and that would mean to be crowned State Champion," Brown said. "This will not be an easy feat with as many phenomenal girls as there are in 6A, Heidi being one of them. But, how they perform is out of my control. My goal is just to put everything I have and lay it out on the track; and, if I do that, it is a great day."
That philosophy has served the Guyer High School sophomore well this season. She currently holds the State record for the year in the 5K with a time of 16:25.47, which she achieved on March 16 at the Texas Distance Festival.
Brown, 15, said the Texas Distance Festival could not have gone any better.
"That run went super well," Brown said. "The day was just like any other race day, full of anticipation and excitement. I went into the race with a different mindset. However, I talked to Coach P beforehand, and he gave me a race strategy, that I executed well. I felt strong and confident during the race, no negativity or doubt crossed my mind. It was a break-through day for me."
Guyer Coach Jonathan Ponsonby said that his sophomore distance runner is competing at a high level so far in 2019 and he anticipates her continuing to build upon her success in each meet heading up to district.
"Brynn is having an outstanding season," Ponsonby said. "The team philosophy is to always push a positive to tomorrow. Alongside her teammates, Brynn is able to see improvements on a daily basis. This has certainly carried over to her success in each meet that she has competed in. These small improvements are very rewarding and add up over the course of the season."
Brown said her first passion was the sport of soccer, which she has played her entire life, but added that even while playing soccer, she noticed tendencies toward distance running.
"I was always the one running all around the field," Brown said. "I've always been drawn to running and now I would describe myself as completely immersed in the sport. Ever since my first mile race in middle school, I have been drawn to running. It was just something that came so natural to me; it felt right. Now my passion for all aspects of the sport is strong and is still growing."
Brown said she feels "blessed" in 2019 to be able to compete in the sport she loves, especially considering an incident she had to overcome last season, which could have derailed her career completely.
"I had a major injury my freshman year," Brown said. "At the time, I was trying to juggle club soccer, high school soccer, and cross country. My body was over-stressed and said 'no more.'"
Brown had a stress reaction in her ischial tuberosity, which is a natural shock absorber in the pelvis.
The Denton teen was told she could walk away from running and go back to being a fulltime soccer player, but refused.
"I put my head down and went to work on the elliptical and in the weight room, doing whatever
I could to get better," Brown said. "Through my injury I found a fire I could not describe and as soon as I got the permission to run, I never looked back."
Ponsonby said that Brown's dedication to her sport is meticulous and self-sacrificing.
"Physically, Brynn does a superb job of managing all the details," Ponsonby said. "Rest, fuel and hydration are very important factors for all athletes, especially endurance athletes. By taking care of these small things, she is able to train and compete at a high level. Mentally, Brynn keeps things very simple—literally taking the season one stride at a time.
"She takes great pride in being an all-around student athlete. Running does not define her. Her outlook and how she handles the successes and failures set her apart from other high school athletes. Ultimately, Brynn loves her teammates. When she is presented with a decision to make, her first response is always, "What is best for the team?" This selfless attitude is what makes her so special and allows her to contribute to the girls track program on a weekly basis."
Ponsonby said that with the success Brown has enjoyed this season, expectations are high; but, added he wants her to continue to take the season one meet at a time.
"Brynn's focus right now is to master the workouts every day and to show up healthy and fresh each week as she toes-the-line," Ponsonby said. "She has mentioned that her goal is to claim a State title. She is certainly capable of doing that in both the 1600m and 3200m runs. Her progressions each week in the workouts and during races support her goal. Brynn knows that she cannot lose sight of the rudiments each day, by gazing too far into the future at the State meet.
"The lessons learned by earning a Silver Medal in the 1600m during her freshman year in track and then again in Cross Country as a sophomore at the State meets have been far more valuable than gold. I am certain that she would look great with a gold medal around her neck, but that remains to be seen. The anticipation is what makes this sport so exciting."