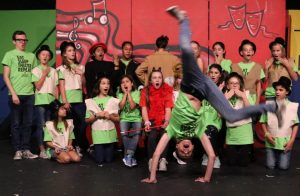 For the past 20 years, Studio B Performing Arts Center of Highland Village has created an atmosphere of creativity, imagination, collaboration and independent thinking through classes, workshops and productions of the performing arts.
Most importantly, Studio B unites the community and brings families together either as audience members or hands-on participation– on-stage or behind-the-scenes– in theater, music and the arts overall.
"I grew up with a love for the arts," said Jarrette Moore, president and chair of the Board of Directors. "Even though my interests and career led me down a path to scientific research, I spent much of my downtime enjoying the arts in different communities, especially theater. From Broadway to local community nonprofits, my family has always loved theater and watching live performances."
To help commemorate its 20th anniversary, Studio B is presenting a reprise of Roald Dahl's Willy Wonka, which opened its first season. Willy Wonka performances are on Fridays and Saturdays, April 5 to 14, at 7:30 p.m. and Sunday matinees at 2:30 p.m.
Studio B has been providing live theater, acting classes, and workshops in The Center at 2400 FM 407 since 1999, when it was part of The Academy of Fine Arts, which was owned and operated by Sarah Tedesco, whose family (the Nelsons) donated the building and land for its use as the academy.
The theater itself was dedicated to Mrs. Tedesco's mother, Marilyn Nelson, who was instrumental in bringing the arts to the community. During the first year, Studio B was under the direction of its first Artistic Director, Pamela Putman Whittaker who had just twelve students with a desire to perform.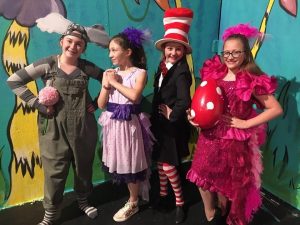 Whittaker was at the helm of Studio B until she moved in 2007 and Robin Hackett was hired as Artistic Director. DeAnna McDearmont, then Managing Director alongside Hackett, became Executive Director until the summer of 2013 when her family moved out of the area.
Jen Adame was named Executive Director in the summer of 2013 and Elizabeth Watson stepped in as Artistic Director.
"I never thought I would one day become so actively involved in a theater, especially since being on the stage is "definitely not my forte," said Moore. "But, I definitely caught the theater bug approximately nine years ago, when my daughter, Shelbrianne, joined the Studio B family at age four. Since that time, I have watched my daughter's creativity grow, and witnessed her confidence and leadership skills flourish.
"So, I too joined the Studio B family seven-years-ago as a volunteer and now serve as the Board of Directors' President alongside seven other remarkable volunteer board members (but will still not get on that stage!). Between all of us, there is over 60 years of love, dedication and leadership amongst the board; and we all remain dedicated to serving our community and following our mission: to encourage participation and appreciation of theater, music and the arts overall while uniting the community and bringing families of all ages together."
Next on the production schedule is the debut of an original drama/comedy play, From a Distance Dad, written by former Studio B performer and local author, Ken Orman.
The plot revolves around Texas-based English chef, Kirk O'Clair, his daughter, 15-year-old Emily, who hatches a plan with her eccentric English grandmother, Nan (who's battling some health issues), to return to England.
To those character's interaction, add a budding romance with the sister of his former fiancé (who died in a tragic accident), a battle with U.S. Immigration law over Emily's Dreamer-born boyfriend, Ricky, plus issues with O'Clair's addiction issues.
Auditions for cast members aged 16 and older are set for Apr. 27, with rehearsals from May 7 to June 6; Friday and Saturday performances are from June 7 to June 15.
"Studio B provides a remarkable service to the community," said Orman. "It's welcoming, friendly, enlightening. It was home to my kids for years. I performed in my first play since high school in Hello Dolly! in 2007. I have so much love for this theater and for the people with whom I worked on multiple shows for five years. Those bonds are unbreakable."
As a "newcomer introduction" to the performing arts– or specific related areas– Studio B offers ongoing workshops, called Intensives. In January, a choreography was presented, in February it was an audition intensive, March featured theater make-up instruction and April focuses on theater improvisation. The May Intensive covers stage management.
The 2019 Camp schedule, "Once Upon a Summer," offers a total of four sessions for specific age ranges.
Camp 1, "Let your Hair Down Rapunzel," is for children aged 8 to 14, from June 17 to 30.
Camp 2, "Thwacked," is for children aged 4 to 11, from July 1 to 14.
Camp 3, "The Big Bad Musical," is for children aged 8 to 14, from July 15 to 28.
Camp 4, "Story Stew– One-Act Play," is for students in sixth-grade and older, from July 29 to August 11.
Looking forward, registration will soon open for Studio B youth workshops– Juniors, ages 4 to 7 and Seniors, ages 8 to 17– for Aladdin, Jr., scheduled to begin rehearsals on Aug. 20 with performances between Sept. 19 to 29; the Senior Company will perform Annie, Jr., from Dec. 6 to 15; and the Adult (ages 18 and older) Community Production of a female version of The Odd Couple will hold auditions on Sept. 14, rehearsals from Sept. 24 to Oct. 24, with performances on Fridays and Saturdays from Oct. 25 to Nov. 2.
For more information, visit: studiobtheater.com; email [email protected]; or call 972.966.2787.