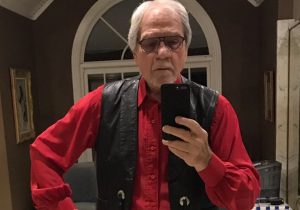 Edward Earl Griffin, 84, of Argyle took his address in heaven with an angelic escort to his father's house where a room has been prepared for him on April 2, 2019.
Ed was preceded in death by father Walter Thomas Griffin, mother Jonnie Kierce Griffin, sisters Martha Barton and Jere Griffin and brother Ward Griffin.  He is survived by his loving wife Sherry, his sister Mary Lou Auxier, son Rock Griffin and wife Gwen, son Dane Griffin, and daughter Shawn Jayroe and 4 grandchildren and 1 great grandchild.
Ed read the obituaries every day to both make sure he was not included and to see if he was older than those he was reading about.  So Ed, here we go… this one's for you!! Enjoy!
Ed Griffin with his wife Sherry lead a fascinating life full of adventure.  He found something special in every person he encountered, and he made sure to speak that truth and love into their lives.  He was a difference maker, he made leaders and business owners by making sure he told people what was special about them. Ed was a tireless business owner who could not be outdone on hours put into the company.
He was a tough father and loving parent who created adventure for his children that included circus horses, racing greyhounds, fishing boats, and Egyptology. Ed and Sherry have traveled and lived all over the United States, breeding, training, and showing horses.  Griffinwood Estates Show Country Farm was Ed's most favorite horse farm and ranch home.
Ed loved to care for his home and yard and was known for keeping up appearances in his pajamas on his zero turn mower. Known as the gentleman's lawnmower, Ed was mistaken for years at Griffinwood Estates as Kenny Rogers.  He had an unforgettable voice that announced him every time he spoke, and a sense of humor that would keep you smiling whenever you were with him.
A celebration of Ed's life will be held at his home in Argyle, on Sunday April 7, 2019 at 2:30 p.m.