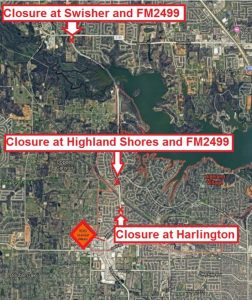 FM 2499 will be shut down in Highland Village one day next week for railroad crossing repair.
After receiving several complaints regarding the rough railroad crossing on FM 2499, the Kansas City Southern Railroad will perform crossing maintenance next Tuesday, starting at 6 a.m.
Northbound FM 2499 will be closed at Harlington Drive.
Southbound FM 2499 will be closed at Castlewood/Highland Shores Boulevard and FM 2181 (Swisher Road).
Alternate routes for commuters are I-35E or Copper Canyon/Old Alton Road.
The railroad crossing repairs are anticipated to be completed by Tuesday evening.