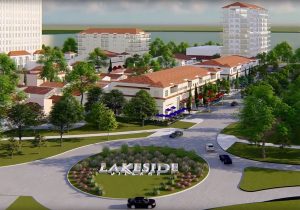 The Lakeside Village Team is hosting a "Meet the Team" gathering this month to give the community a chance to meet the developers working to execute the Lakeside Village vision.
Located on the shores of Lake Grapevine, Lakeside Village is the remaining 40 acres located to the south of Lakeside DFW. Lakeside Village will include restaurants with terraces overlooking the lake, public parks, shops, offices, hotels, upper story living with lake views and a boardwalk, according to a news release from Realty Capital Management. At build-out, Lakeside is planned for approximately 2,200 residences and 705,000 square feet of commercial space at a combined value of $1.5 billion.
"The amended zoning for Lakeside Village was approved April 9th, 2018 and since then we have been working hard on construction plans for the project," said Jimmy Archie, managing director for Realty Capital Management. "We want to offer the community a chance to meet the team that is an integral part of bringing Lakeside Village to life."
The "Meet the Team" event is scheduled for 11 a.m. to 2 p.m. on April 27 at Sunset Point in the Lakeside DFW community. Team members include Realty Capital Management (the Master Developer of Lakeside) ArchCo Residential (Residential Tower Developer), Gatehouse Capital (Hotel Developer), Van Trease Constructors (Custom Villa Home Builder), Larry Boerder Architects (Project Architect), G&A McAdams (Civil Engineer), Kevin Sloan Studio (Landscape Architect) and the Stewart Family (Land Owner).