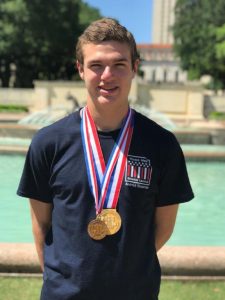 A medical condition early in life has made Argyle High School senior Brandon White grateful for a lot of things most of us take for granted.
White, 18, is a member of the football, basketball and track and field teams at AHS, but food allergies to wheat, soy, milk, nuts, eggs and seafood at a young age made it questionable if the Argyle teen would ever be able to lead a normal life.
"The only place my mom was able to shop for me was Sprouts," White said. "These allergies lasted from about the ages of four to nine and it has made me so grateful for the foods I am now able to eat. It has given me a whole new perspective."
White is a member of the National Honor Society, Young Men's Service League and competes on the UIL Calculator team at Argyle High School.
"I like being involved in a variety of things because it gives me different perspectives, builds many relationships and keeps me busy for the most part," White said.
The Argyle senior already has a pretty good idea about what he would like to major in at college, but is not quite sure what he wants to do for a career.
"I would like to earn a degree in mechanical engineering and just see where it takes me in the world," White said. "I chose mechanical engineering because of my love for math and I hope to do something I enjoy when I grow up."
White is ranked 26th in his graduating class and carries a 98.3 grade point average.
He plans to attend either Texas Tech, Texas A&M or Colorado School of Mines.
White's Favorites
Favorite Subject: Math
Person that inspires me: My mom
Favorite food: Pasta
Favorite movie: Facing the Giants
Favorite TV show: Friends
Last book I read: The Running Dream
Favorite musical group or performer: Country in general is the best music.
Nominate your favorite high school student for this monthly feature brought to you by Texas Health Presbyterian Hospital Flower Mound by emailing [email protected].