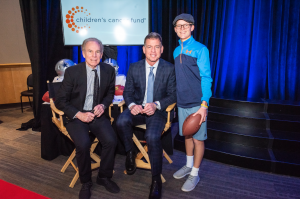 Jacob Senden, 14, of Flower Mound, will be a featured model in the Children's Cancer Fund Gala "An Evening in the Garden" next month.
The event is "where hope blooms in an enchanted garden filled with miraculous stories of survival," according to a news release. It will be held on April 26 at the Hilton Anatole Dallas and will include a silent auction and VIP reception, followed by the dinner and program. Chair Kimberly Schlegel Whitman joins longtime Honorary Co-Chairs Roger Staubach and Troy Aikman to kick off the evening.
The event is expected to raise more than $1 million to support pediatric cancer research and treatment programs at Children's Health and UT Southwestern, according to the news release. Staubach, who has been involved all 31 years, and Aikman, now in his 22nd year, join other celebrities and sponsors as runway escorts for 25 featured pediatric cancer patients, ages 4-16, who model fashions by Dillard's for the annual fashion show. The evening will conclude with dancing and entertainment.
In April 2017, Jacob Senden was diagnosed with a malignant brain tumor. That year he endured six rounds of extensive chemotherapy and radiation treatments.
"His tumor has reduced in size, and the doctors at Children's are pleased with his progress," said John Senden, his father.  "Jacob has really hung tough. His whole body was getting slammed with all these treatments, and he was so strong in his whole attitude and his whole body. We are so proud of him."
Jacob is in the 8th Grade at Liberty Christian School in Argyle. He would like to be a golf professional just like his dad, whose career has brought two PGA TOUR titles. On weekends, Jacob likes to play sports and be with his family. His extended family lives in Australia, and he would love to travel there to see them. He also enjoys Legos, music and playing Rubik cubes. Three of his favorite celebrities are Michael Jordan, Jack Nicklaus and Jason Witten.
"I'm excited to participate in the gala to help raise money and awareness for childhood cancer," Jacob said.
The gala, which is the organization's largest annual fundraiser for pediatric cancer, is sponsored by CBS 11 and features Karen Borta as mistress of ceremonies. Since 1982, Children's Cancer Fund has donated over $10 million to the childhood cancer cause.
"The Children's Cancer Fund Gala brings together kids who have been through such hard times, from chemo to radiation," said Jennifer Arthur, executive director, Children's Cancer Fund.  "No matter where they are in treatment – day one or year 12 – we are celebrating their lives and letting them know they are not alone in this fight. The commitments of our supporters on this special night give us hope of a day when childhood cancer will no longer exist."