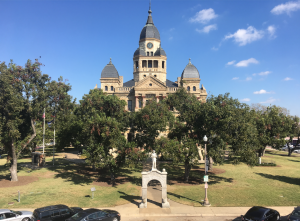 The Denton County Office of History and Culture is celebrating the Courthouse-on-the-Square Museum's 40th anniversary with an event and new exhibit on Saturday.
The new exhibit — called 40 for 40: Forty Artifacts for Forty Years — will be unveiled during the event from 11 a.m. to 3 p.m. on Saturday at the museum, located 110 West Hickory St. in Denton. It will highlight a selection of 40 items from the museum's collection, and will be open until Feb. 3, 2020, according to a news release from the Denton County Office of History and Culture.
The event will also feature live music by the Mike Luzecky Trio, a macrame workshop by Rosebud & Bear, kids' crafts, snacks and clocktower tours.
The museum opened in 1979, and it has acquired many artifacts that tell stories of the county's history over that time. All exhibits, lectures and events are free and open to the public.