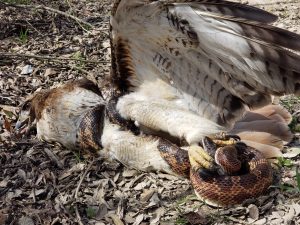 Local students got the rare opportunity to witness up close the struggle between would-be predator and prey recently on a field trip in Northlake.
The Texas Parks and Wildlife Department shared the story on its Facebook page this week of a group of seventh graders on a recent field trip at the Northwest ISD Outdoor Learning Area. The students saw a red-tailed hawk and non-venomous rat snake tangled in a stalemate, and they actually thought both the raptor and serpent were dead and notified staff.
But after closer inspection, it was found that both animals were still alive, and eventually they let go of each other. The hawk flew off and the snake slithered away, according to TPWD.
The incident has received national media coverage, including from Fox News and McClatchy.