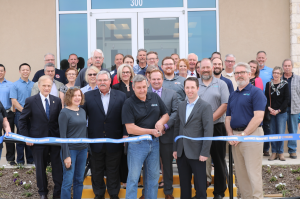 The town of Northlake cut the ribbon on its new Town Hall last week.
Town staff had outgrown the old 2,500-square-foot Town Hall, according to the town, so it found a larger space to move to. In December, most of the town staff moved into the 6,000-square-foot space at 1500 Commons Circle.
The new Town Hall is on the north side of a small office park located off of FM 407 in front of the Harvest subdivision. It houses the town's municipal court, administration staff and Town Council meeting space. Public Works now occupies all of the old Town Hall, 1400 FM 407, and the police department remains in an annex building next to that building.
About 60 people — including state and county representatives — attended the ribbon cutting ceremony on March 22, hosted by the Northwest Metroport Chamber of Commerce, according to the town.