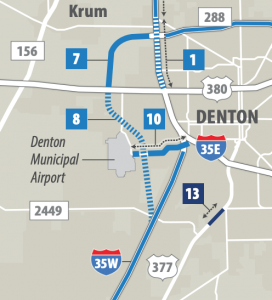 The Texas Department of Transportation will host a public meeting Thursday evening about its proposed extension of Loop 288 from I-35 in north Denton down to I-35W south of Denton.
The proposed project would be the construction of a 9-mile stretch of a four-lane highway with a median from the Loop 288/I-35 interchange in north Denton down to I-35W at the FM 2449 exit (Nos. 7 and 8 in the graphic), according to TxDOT's website. About 400 acres of new Right of Way would be needed to accommodate the project.
Maps showing the project's location and designs will be available for viewing at the meeting, and representatives from TxDOT and project consultants will be available to answer questions about the project. It will be held in an open house format with no formal presentation, with the purpose of presenting the project to the public and receive feedback from residents.
The meeting is scheduled for Thursday, March 28 from 6-8 p.m. at McMath middle School, 1900 Jason Drive in Denton.