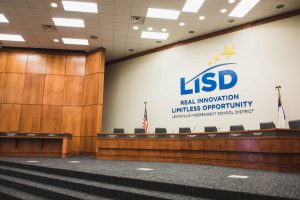 By Leopold Knopp, Contributing Writer
The Lewisville ISD Board of Trustees approved a lunch price increase of five cents and set several millions of dollars of maximum prices on items related to the 2017 bond package.
As the district approved millions of dollars in expenses that have been planned for, the board was also confronted with situations that were not going according to plan. The under-construction Mill Street Elementary is currently not on schedule to be completed in time for the start of the school year, and for the second straight meeting, an LISD bus driver addressed the board to blow the whistle on the company they contract with for bussing services.  
The board approved increasing the price of school lunches by five cents per meal to $2.65 and $2.90 per meal in primary and secondary schools, respectively, starting next school year. The district anticipates $92,703 of additional revenue from this price increase.
This follows an identical increase last year, and it could have increased more than that. The U.S. Department of Agriculture sets minimum prices for full-price school lunches. According to background material, LISD anticipates that the USDA will require a 10 cent price increase, but the district only recommended a five cent increase because of the impact a 10 cent increase would have on LISD families.
The USDA has not yet released its official guidelines on next year's minimum school lunch prices. Last year, the board started discussing school lunch prices in March, but waited until May to approve the increase because the USDA took so long to release its guidelines.
The board also approved a $1.5 million contract extension with Aramark Educational Services to return as the district's food service provider for the 2020 school year. The district has been with Aramark since 2015.
The board approved $15.7 million in spending across four total construction projects relating to the 2017 bond package. These include $7.3 million for the 20-year refresh of Valley Ridge Elementary, $5.3 million for construction on the expanded Hedrick Middle School, $1.8 million for phase 1 of Central Elementary's 20-year refresh and $1.4 million total to re-roof Ethridge Elementary and replace the floors at Lakeview Middle School, all of which are provided for in the bond package.
District CFO Mike Ball singled out the last item as about $340,000 higher than the original estimate, which he said was due to increased competition for roofing services in DFW after multiple severe hailstorms in the last two years. However, he said it was OK because of several other bond projects that are under budget.
As the district approved millions of dollars in expenses that have been planned for, the board was also confronted with construction that was not going according to plan. Balfour Beatty Construction's vice president of Texas education, Jon Moreau, gave an update on the construction of Mill Street Elementary and revealed that the school is currently not on pace to be ready by the start of the year.
Moreau said the school is now on-course for completion Aug. 29, after teachers move in Aug. 9 and students come back on Aug. 13. Multiple board members interrogated Moreau on the status of construction. He said that the company had brought in scheduling consultants to help get back on track and that crews are already working six day weeks.
"I will be very, very disappointed if that building was not complete on Aug. 13 when we have children showing up for the first day of school," Jenny Proznik said.
Superintendent Kevin Rogers said the district would be prepared if the school is not ready to open at the start of the year, but that he expects the school to be ready to open on schedule.
During public comment near the beginning of the meeting, First Student bus driver Casey Childress addressed the board about what he called repeated abuses by other First Student bus drivers. First Student has provided bussing services to LISD since 2015. Childress is the second such bus driver to address the board in as many meetings – another bus driver addressed the board in February.
Childress described a litany of abuses by a small handful of fellow bus drivers that go unaddressed by his company, including drivers who text while driving and steal on school property. He said that LISD policy and state laws are broken on a regular basis, and that in two instances, First Student employees who had been fired for particularly egregious incidents were re-hired by the company, and Childress said those two drivers are still transporting students today.
Childress described the lack of tragedy on LISD busses as a matter of luck.
"Without change, any cycle will simply continue. The unsafe transport of children on a daily basis is no exception. It will continue and will only become headline news when we stop getting lucky," Childress said.
School bus services were not on the agenda, and as such were not discussed publicly by the board.
Lewisville ISD meets monthly, usually on the second Monday of each month, with several workshops and informational sessions in between. All of these meetings are open to the public, and a full schedule can be found on the district's website here.