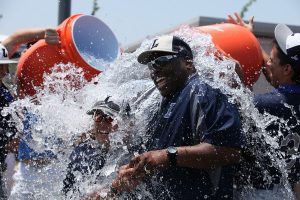 Liberty Christian School announced Wednesday that Johnny Isom will serve as the school's next athletic director.
Isom, who came to Liberty in 2001, currently serves as the school's assistant athletic director and head baseball coach, according to a news release from the school. In a statement, Isom said he looks forward to carrying on Warrior traditions and strengthening athletic programs to serve both the student-athletes and the school.
"It has always been my desire to do what was needed for the school and the Athletic Department, and I am beyond excited about faithfully walking through this new door that God has opened for my family and me," Isom said.
Previous Athletic Director, Zack Vest, left Liberty in November of 2018. Liberty honors its previous Athletic Directors who paved the way and made Liberty's successful athletic program what it is today: Zack Vest (2014–2018), Greg Price (2009–2014), Darron Chrane (2007–2009), and Mark Bowles (1983–2007).
Liberty Christian's Vice President of Student Activities Greg Oglesby said Isom was selected after a thorough search and interview process, in part because he brings years of experience, an extensive knowledge of Liberty Christian School, and a unique ability to build relationships.
"Coach Isom's servant leadership is evident in the respect and admiration felt and exhibited by both former and current Liberty students and coworkers," Olgesby said. "We are excited about the impact he will have on coaches and student-athletes. His spiritual leadership and his respect for the importance of balancing academics and athletics defines who we are at Liberty Christian School."
Isom said his new role is as much about helping set future vision as it about giving back to and honoring the unique history of the Liberty community. As athletic director, Isom will be responsible for Liberty Christian's entire athletic program, which includes 67 Varsity, JV, Middle School and youth sports programs.
"I have been fortunate enough to have served under every Athletic Director our school has ever had, and I will use what I have learned from each of these amazing men to carry on our great athletic traditions," he said.
Isom has led Liberty Christian's baseball program to state championships in 2009, 2013 and 2018. He has been named TAPPS Coach of the Year five times. In 2017, he earned his 300th career baseball win.
As assistant athletic director, Isom implemented guidelines and a code of conduct for Liberty student-athletes, families, and coaches, ensured compliance with TAPPS regulations, and he mentored new coaches to implement best practices in coaching techniques and cultivating parent/athlete relationships.
Before coming to Liberty, Isom worked for Texas Rangers. A North Texas native, he was a Crowley High School standout in baseball, football and basketball. Isom went on to play college baseball at Texas Wesleyan University and had a professional baseball career with the Baltimore Orioles for six years.