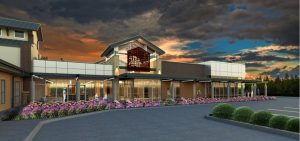 An April groundbreaking for the Flower Mound Library expansion was announced during Monday night's Town Council meeting following the approval of its site plan request.
"We're going from our current 25,000-square-feet up to 40,000-square-feet," said Sue Ridnour, director of Library Services, in a recent interview. "All of the new 15,000-square-feet, mostly on the north side, will be for public use. The staff space won't change, except for some freshening."
Inside, the northern (12,035-square-foot) and southern (4,126-square-feet) expansions will highlight: a dedicated children's Storytime/program area; a family bathroom; a dedicated teen area with four more study rooms to the existing three; a digital media lab with professional-level software; and, a second multipurpose room.
Outside, the northern parking lot will provide a total of much-needed 145 parking spaces, which required a waiver to exceed the 20-percent increase deviation. Ridnour said library users often need to revert to on-street neighborhood parking for special events and during daytime programs.
The current library building opened in January 2000 and is 25,000-square-feet. Previous locations were the old Fox-and-Jacobs house on Churchill Drive and the southern-end of the old Town Hall.
"The town's population growth meant we kept outgrowing our space," said Ridnour.
At its June 19, 2017, meeting, the Tax Increment Reinvestment Zone (TIRZ) Board voted to contribute $10.9 million to help fund the library project.
The town hired the original library designers, Komatsu Architecture (no relation to Komatsu construction equipment company) and the construction manager is Steele & Freeman.
Since the library will stay open during construction, it's estimated to take 16 months; so, the completion deadline is August 2020.
For more details, visit: www.crosstimbersgazette.com/2019/01/20/demand-drives-library-growth/
Morriss Road Project
In addition to giving a greenlight to the library site plan, Town Council approved a construction agreement of $5,000,845 with Tiseo Paving Company for the Morriss Road 20-inch Water Line Improvements Project, with pavement panel replacement and ADA improvements.
Tiffany Bruce, executive director of Public Works, said the project is expected to take approximately nine months and will reduce Morriss to one lane during active construction in portions from Firewheel to FM 3040.
"We plan that the bulk of work time in front of the school [Forestwood Middle School] will be during the summer months," said Bruce.
Senior Overlay District
Finally, the council chose to eliminate the Senior Overlay District along FM 2499 which was created in March 2017 to attract affordable, high-quality rental housing developments for seniors. The overlay has an expiration date of March 6, 2020.
Assistant Town Manager Tommy Dalton said there is only one senior rental project currently being discussed for the Canyon Falls area in western Flower Mound; outside the Senior Overlay District.  No official application has been submitted.
"I have no problem taking it out, because it brought us what we were looking for," said Deputy Mayor Pro Tem Claudio Forest, regarding the approved NEM Flower Mound Senior Living (133 units) and Watermere (240 units) developments.
Council member Jim Engle brought forward the request to eliminate the district early. He said it would give nearby residents peace-of-mind that another senior development won't be built in their vicinity. He added that the developer of Watermere, Paul Milosevich, had indicated there shouldn't be the need for another over-55 development for about five years.
The council requested town staff to prepare a Master Plan amendment to be reviewed by Planning and Zoning Commissioners during a future meeting to be determined.