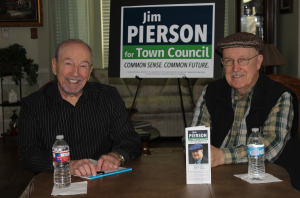 In case you're not aware that another local political season is upon us, The Cross Timbers Gazette is a constant reminder that we have a duty to pay attention to the candidates who are running for seats on the Flower Mound Council. Our local government has more direct effect on our day to day lives than either the state or federal levels.
The fact that our town is such a great place to live is not an accident. It happens because we have so many community-minded people in our orbit. The best way to see a decline in one's living conditions is to become complacent and uninformed. We have a Town Council election coming up on May 4, providing us with another opportunity to participate in the government of our town.
There are two seats without incumbents and there are five people running. For Place 1 there are three candidates: Laile Stewart Neal, Laura Dillon and Jim Pierson. For Place 3, the two candidates are Mike Wallace and Ben Bumgarner.
In order for residents to hear directly from the candidates, each will have the opportunity to come over for an interview to answer questions about their background and their reasons for wanting to be on the Town Council. The following biographical material was sent by Jim Pierson, running for Place One:
"I graduated from Morgan Park Military Academy, Chicago, Ill., one of the last three US Army run schools in the United States. After a few passionate discussions with my mother, I enlisted in the U.S. Navy and spent 4 years aboard two destroyers and made 3 tours to the western pacific during the Viet Nam Era. Following my honorable discharge from the Navy, I returned to school where I graduated with an AA degree from Broward College in Davie, Florida in 1969. I was recruited by Household Finance (now Household Bank) and subsequently promoted to manager and transferred to North Park to manage a branch there. Subsequently I worked for three major corporations in various subsidiaries but always in operational management. I retired in 2014 (almost).
"I have a small part time consulting firm that works with two home health business owners from time to time. In 1984, after approximately 12 years in the Dallas area, we discovered Flower Mound and built our home here. Population around 6500! We have two grown children who attended school in Flower Mound. Our oldest son graduated from Marcus HS's 2nd graduating class and lives in East Texas with his wife, 2 daughters, a son, in the Marines and 5 great grandchildren. Our family was active in soccer and I coached and refereed for over 20 years. I was active in Flower Mound also, appointed to Planning and Zoning under Rick Lusk, Gary Acker and Larry Lipscomb as well as President of the Franklin Hills Water Corporation.
"When our daughter was 13 she got CRPS and my wife, Melissa and I, felt it was necessary to focus on her. While she still struggles with her illness, she is grown; she has a loving husband and church family at RockPointe where we have been members for almost 10 years. Since, they have given us two more wonderful grandchildren who live in Justin. Now that I am retired (almost) and fewer distractions from our littles, I want to give back to the town that has been so good to us, at a time where I feel we need a unifying message and a reminder of how unique we are in all of Texas."
Early voting begins April 22nd and Election Day is May 4th.