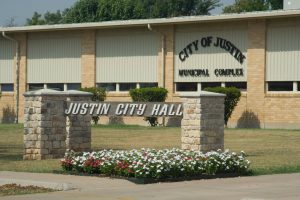 In May, Justin residents will begin receiving monthly "Front Porch Service" for household hazardous wastes, according to a news release.
Residents will be able to easily discard items such as paint, insecticides, pool chemicals and other household chemicals, which are not accepted by regular trash collection services and are prohibited in landfills. Under the terms of the agreement, the city of Justin will absorb the cost of the service through the remainder of the fiscal year. The contract allows residents to either call HHW Solutions or go to the HHW Solutions website to get on the monthly collection list.
Each month, on the appointed collection day, residents will leave their household hazardous waste items on their front porch in the morning before 8 a.m. and the items will be removed by the end of the day. Residents can use the service every month of the year if they wish. The new service is a three-year contract unanimously approved by the Justin City Council on Monday night.