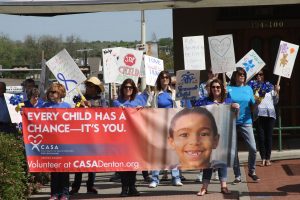 In an effort to raise awareness about the increasing child abuse crisis in North Texas, CASA of Denton County will be hosting a March Against Child Abuse next month.
Participants will meet at the Denton Civic Center at 10:30 a.m. on April 5, and take their first steps at 11 a.m. to the Denton County Courthouse-on-the-Square, according to a news release. Once on the Square, there will be a brief program, a group photo and information sharing with visitors, business owners and Denton County residents about how they too can take a stand and support the mission of CASA, which stands for Court Appointed Special Advocates for children.
In 2018, CASA of Denton County served 533 children with the support of 224 community volunteer advocates. While CASA has continued to grow over the past 27 years, so have the needs in North Texas, according to the organization. Last year, even with hundreds of volunteers serving the CASA mission the organization was only able to serve roughly 74 percent of the children navigating the child welfare system due to abuse or neglect.
You can show your support for Child Abuse Awareness Month by wearing blue and joining CASA supporters to march and raise awareness for child abuse. If you see them marching on April 5, honk, wave or join in.
For additional information about CASA of Denton County and to engage in the CASA mission, visit www.casadenton.org or call 940-243-2272. The mission of CASA of Denton County is to provide trained community volunteers to advocate for the best interest of abused and neglected children and promote community awareness about child abuse issues.