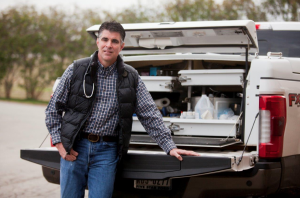 People have personalities; and, according to Dr. John F. Bitter– owner and Chief Executive Officer of Argyle Veterinary Hospital and Equine Clinic– animals have, well, animalities.
Bitter, a sixth-generation Texan and the son of a veterinarian– who broke ranks with a long line of engineers– grew up on a cattle ranch near Victoria, Texas. The earliest Bitters immigrated to San Antonio from the Alsace-Lorraine region, on the border between France and Germany.
"My fifth great-grandfather signed the Texas Declaration of Independence," the doctor said.
So, in addition to practically being an archetypal cowboy in boots and jeans who speaks English with a pure Texan pronunciation, he's a walking, talking, breathing Lone Star State patriot with a string of impressive diplomas, a busy soon-to-be-very-suburban business and a seat on the Argyle Independent School District School Board. Oh, and he's a longtime husband and father.
"By the time I was six I wanted to be a veterinarian like my dad," he said.
Passing time, however, revealed a serious personal weakness for things equine. In 1993 he graduated from Colorado State University in Fort Collins, with a Bachelor of Science in bio-medical science with a veterinary emphasis.
"Toward the end of my undergraduate study, I spent a semester in Australia, at the University of Queensland, where they have a world-renowned program in equine theriogenology," said Bitter.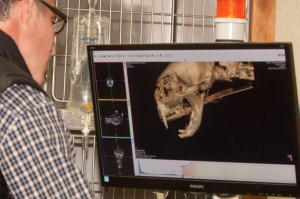 Huh? Like human doctors, veterinarians have specialties. Theriogenology is the clinical practice of animal obstetrics, gynecology and andrology. Andrology being the male version of gynecology.
"My experience in Australia was terrific." said Bitter. "I loved everything about the place. The outdoors there is great, the scenery is beautiful and the people are friendly."
In 1997, Bitter graduated from Texas A&M Veterinary College, and became a Doctor of Veterinary Medicine (D.V.M.). Shortly thereafter he came to Argyle Veterinary Hospital, primarily as an Equine Associate.
"My then fiancée had landed a job in Dallas and, although Argyle was still pretty rural, it was close enough to town and a good fit for both of us," he said. They've lived here ever since.
"Since veterinary school, I had it in my mind that I wanted to own a clinic," said Bitter. "I just didn't know how that was going to come about."
In 2005, his employer retired and sold the practice to Bitter.
Today, the facility consists of two low-rise ranch-style buildings, parking and paddock on a two- acre parcel of land near the intersection of FM 407 and Highway 377; a few miles west of Lantana.
The staff of 30 professionals includes seven veterinarians, veterinary techs or nurses, receptionists, kennel assistants and business administration personnel.
"We have a thriving small animal practice, an equine-only emergency service, an equine surgical suite and partner with a veterinary pharmacy to provide online service," said Bitter.
Wonder what the doctor's examination room for horses looks like?
It's a big-footprint room with cinderblock walls and a very high ceiling. The entrances and exits are retracting garage doors for tall customers; and, the floor is horseshoe-proof, spotless concrete. Two walls are lined with typical doctor's office kitchen-style cabinets, countertops and a sink.
Off to one side is a one-horse steel stall. Each end has its own gate. There's a two-car garage-size waiting area, with a long wooden bench, where animal owners wait with tethered patients.
The doctor's personal office is behind glass in one corner of the room.
How do you handle an unconscious animal that weighs about 1,200 pounds?
"We use an industrial hoist and a hydraulic table," Bitter said.
Everything is BIG like the patients.
"If you go to the hospital, they give you an IV-line from a one-liter bag of fluid," said the vet. "Here we give the patient an IV-line from a 20-liter bag!"
If you ever thought a pill was "big enough to choke a horse," the jumbo size of a large animal hypodermic might make you flinch– and maybe run away screaming?
A horse with a runny nose is impressive. Forget dainty tissues; vets wipe big drippy noses with a big handful of wadded paper towels.
Outside, between the two buildings, is the doctor's pickup cum mobile office. The truck-bed is fitted with locking steel cabinets with lots of drawers and cubbies of veterinarian necessaries. Yes, he makes house calls.
"In the case of horses, it's often easier for me to go to the patient, Bitter said. "Eighty-percent of surgeries are performed at the farm,"
How does a horse communicate something's not right?
"Well, if they're in pain, they do a lot of pawing and they'll roll on the ground," said Bitter. "If they're upset, horses are champion ear 'twitchers,' biters and their kick will pack an attention-getting wallop."
The spacious parking area between the hospital buildings is scheduled for expansion construction.
"As big master-planned communities are replacing our horse farm neighbors, we are becoming more and more of a small animal business," said Bitter. "Urban growth is inevitable as people discover places like southern Denton County; and, like all businesses, we respond to our changing veterinary demographics."
Bitter says small animal practice is enjoyable and the growing demand for high-quality small animal care has become a large focus of the hospital. Bitter and his staff all look forward to meeting more and more of their new neighbors.
"We add value to our clients' veterinary experience by performing surgeries and treating internal medicine cases that most general practices refer," he said. "Of course, we make referrals to specialists from time to time, but our investments in technology and training enable us to provide many services right here; close to home, often for less expense."
Five-years-ago, Bitter joined the Argyle Independent School District Board of Trustees.
"Quality education is so important," he said, having three sons in Argyle schools. "With 2,731 students enrolled, this amazing district can boast of its community involvement, high parental expectations and willingness to put a shoulder to the proverbial wheel; a learning environment aimed at college, excellent staff and a curriculum focused on academics."
At age of almost 50, what does John Bitter think about living life?
"Growing up in a big family, I learned the important news that the world doesn't revolve around me," he said. "Then I learned how to work. There were always cattle to feed, fences and water pipes to fix, fields to mow and horses to ride. The family values I grew up with, were– do what I enjoy, have a sense of humor, be committed, work hard and give value."
All this is evident the minute you walk on the hospital's campus.
The Argyle Veterinary Hospital is located at 410 F.M. 407 E. in Argyle, Texas.
To schedule an appointment call 940-464-3231, or visit: argylevet.com.
(Contact the writer at [email protected])