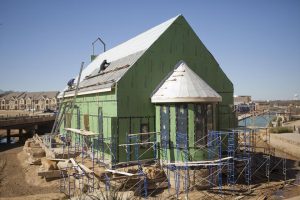 "Are we there yet?"
Everyone– including the town staff– wants to know when The River Walk at Central Park in Flower Mound will open its doors to be the hot place to go for dining, shopping and entertainment.
"The retail buildings on the corner of Long Prairie (FM 2499) and Central Park are set to open in approximately one-and-a-half-months," said Courtney Morrow, director of marketing for developer Centurion American.
The one-story 4271 Esplanade-Building 2, fronting FM 2499, already has tenants– Orangetheory Fitness in Suite 100 and Aria Nail Bar in Suite 110.
The three-story retail/office 4281 Esplanade-Building 1, which fronts on Central Park, will house Bank of America/Merrill Lynch in Suite 300.
Meanwhile, at the southern end of the canal: "We're looking at a late summer [2019] timeline for the restaurants, chapel, reception hall and parking garage," said Morrow.
And, of highest interest– what dining options will be opening? A tentative list of possible restaurant tenants was announced at a Rotary fundraiser and reported in this newspaper back in September 2018.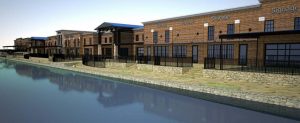 Nate Champion's Prime Steak & Chop House, a high-end steak restaurant with a variety of wine selections was announced as the anchor at the southern-end of the man-made river.
Sharing the same building, was set to be Cuvée, a restaurant and lounge with an interior European wine décor.
Moving northward, River Social, with a gathering-spot concept described by Centurion American Vice President Jack Dawson as: "a set up for parties for 10-12 people, with sports TVs, interactive games … a kind of place for everyone."
Pizzeria Ascoli, serving Neapolitan-style pizza, will also be in that building.
The third building was announced to feature Primo's Tex-Mex Grille, as well as Flomo's, a burger, shakes and sweets shop.
"No individual permits for specific restaurants in the restaurant row have been submitted to the Town," said Andrea Roy, director of Development. "We have been informed that Primo's may be replaced by an alternate, similar-type of restaurant."
A final list of restaurant brands is expected to be announced in the near future.
Other amenities are in the works. "We're working on the design for the Farmers Market and Splash Pad with town staff," said Morrow.
She added that the Amphitheater is currently under design and an update will be given in the next few months.
The River Walk property– located north of FM 1171, west of Morriss Road and east of FM 2499– was formerly owned by the Baptist Foundation. In 2013, Centurion American purchased the 158-acres and began the dredging operation to build a six-foot deep, 3,000-foot-long river walk canal separating the development's eastern residential area and its retail, restaurant and entertainment western areas.
The developer pointed to utility issues as the main reason for the slow progress of the restaurant building construction.
The River Walk is set to fling open its shopping and dining doors to add to its reputation as a hot place to visit for really cool late-summer and autumn events.