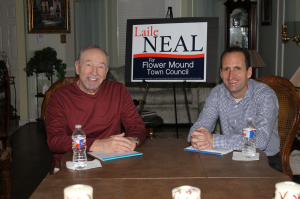 It's time for all Flower Mounders to once again educate themselves about the candidates running for our Town Council. We should all be proud in the knowledge that our residents come out to vote at a higher percentage than most municipalities in the area. It's always a good idea to know something about the people who will be governing us for at least the next few years. We have a Town Council election coming up on May 4, providing us with another opportunity to participate in the government of our town.
There are 2 seats without incumbents and there are 5 people running. For Place One there are 3 candidates: Laile Stewart Neal, Laura Dillon and Jim Pierson. For Place Three, the 2 candidates are Mike Wallace and Ben Bumgarner. In order for residents to hear directly from the candidates, each will have the opportunity to come over for an interview to answer questions about their background and their reasons for wanting to be on the Town Council.
The following is a short bio sent to me by Place One candidate Laile Neal: "Laile Neal is a 13 year resident of Flower Mound.  He is currently the Vice Chair of the Planning and Zoning Commission and previously served on the Planning and Zoning Board of Adjustment/Oil and Gas Board of Appeals, serving two years as the Chair.  Laile is a corporate aircraft training pilot and check airman for Bombardier.  He and his wife Linsi have 3 girls, Bryanna, Meghan and Adelyn."
Early voting begins April 22nd and Election Day is May 4th.