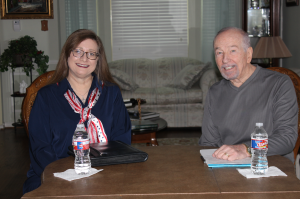 The Flower Mound Town Council election season is underway and voters will have to select their leaders for Place 1 and 3 in the May 4th election. There are 3 candidates running for Place One and 2 candidates for Place 3. My interview today introduces Laura Dillon, running for Place One. We will undoubtedly be receiving many literature mail pieces describing the contenders for those offices. The purpose of these video interviews is to allow voters to see and hear directly from the candidates before going to the polls. My questions are directly related to the issues most Flower Mound residents are concerned with. Videos only run between 8 and 10 minutes, but that's long enough to cover salient topics. The following bio was sent by Laura Dillon, which provides some background material concerning her leadership skills.
"Laura Dillon is running as a candidate for the Town of Flower Mound's Town Council Place 1. The seat is currently held by Councilman Jason Webb who has decided to not seek re-election. Laura moved to Flower Mound in 1999, residing in the Stone Hill Farms neighborhood. She is divorced and the mother of a daughter in graduate school who previously attended Prairie Trail Elementary, Lamar Middle School and Marcus High School. With a lifelong commitment to volunteer service, Laura has served in many areas of the community including as Vice President of her HOA, Leader of a Girl Scout troop and several roles with the Marcus Band and Fellowship Church.
"In 2015, Laura began attending Town Council meetings as well as Boards and Commission meetings in order to learn more about the Town's government. In the summer of 2016, she participated in the inaugural class of the Town of Flower Mound's Citizens Academy. During the Citizen's Academy, Laura was encouraged to apply for one of the Town's Boards/Commissions. She was appointed by the Town Council to serve on the Planning & Zoning Commission Place 6 beginning September 2016 and was re-appointed September 2018.
"Laura earned a Bachelor of Arts in Sociology from the University of Texas at Arlington. Her studies also included undergraduate and graduate work in Gerontology at University of North Texas. With more than 25 years of experience in the group health insurance benefits industry, Laura is currently a senior consultant at one of the nation's largest employee-owned insurance brokers where she partners with employers to strategize on best-in-class employee benefit offerings to attract and retain top employees."
For more info please check Laura's Facebook page at Laura Ella Dillon.