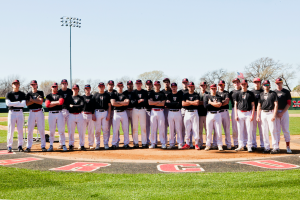 With baseball season getting underway, one area coach is wondering if 2019 could be the year his team brings home a State Championship.
Marcus High School baseball coach Jeff Sherman has a vested interest in the success of the Marauders baseball program that goes well beyond the hopes and desires of a typical head coach—Flower Mound is where he grew up and Marcus is where he played high school ball.
"Because of my passion for the sport and the fact that I went there, I wanted to make sure it wasn't a chore," Sherman said. "The best thing that I do is to create an image of what it was like when I played there."
Sherman graduated from Marcus in 1999 and went on to become a college All-American, before heading into coaching.
He assumed the head coaching position at Marcus in 2013 and in his six seasons, he has reached the regional tournament four times and regional finals twice.
"We've gotten close," Sherman said.
Sherman's team finished 30-14 in 2018 and reached the regional finals, but missed qualifying for state by one game in a loss to eventual State Champion Southlake Carroll.
Sherman said that Marcus has lost some firepower from last season, but said that he believes his team will be just fine.
"We've got a lot of guys to replace," Sherman said. "But, we've got a hard-nosed team that refuses to lose."
Blake Mayfield (committed to Texas A&M) and Tyler Morgan (committed to Abilene Christian) should lead the way for Marcus on the mound this season, while Sherman said he expects big things from Jacob Bushnell, Brett Hedges and Hunter Teplansky as well.
Across town at Flower Mound, the Jaguars are hoping to improve on a 2018 campaign that saw the team finish 14-17 for the season, with a 4-10 mark in district competition.
Coach Danny Wallace said scrimmages have been good so far for the Jags and said that he and his players want to put 2018 behind them.
"Last season was a frustrating season for us," Wallace said. "Several issues led to us fielding a very young club, and we struggled."
The coach said he expects Austin Wallace, Cam Brown, Austin Russell and Tyler Talbert to have strong seasons in 2019 and said, "we will be very deep on the mound and it will be a team strength."
Wallace said it will take two things for his team to have a successful season in 2019.
"We have to stay healthy and get our new starters good experience during a tough tournament schedule," Wallace said.
For the town of Argyle, 2018 was a banner year; both Liberty Christian and Argyle High School won State Championships.
Liberty Coach Johnny Isom said his team was off to a 3-2 start through its first five games of this season added, so far, it's been kind of a mixed bag.
"We have had some good moments and some not so good moments," Isom said. "But overall, the effort is there and I believe we are heading in the right direction. We will continue to get our work in and really focus on coming together as a team."
The Warriors have had seven players commit and sign letters-of-intent to play college baseball this season. Isom said he is expecting big years from Creighton Hansen, Pryor Thomas, Brett Huff, Kolsen Powers, Hayden Winter, Noah Hopkins, Joe Wolf and Mason Packwood.
Liberty Christian finished 30-12-1 overall last season with a 12-2 mark in district competition. In postseason games, the Warrior team defeated, "four of the best arms in the state," Isom said– two Texas commitments, a Sam Houston commitment and a Texas A&M commitment– to win the TAPPS 6A State Championship.
"The strength of our team will be our pitching and our defense," Isom said. "We have many unknowns offensively, but we are fortunate enough to have two of the TAPPS top returning starting pitchers in Joe Wolf and Jacob Hasty on our roster. They will be the backbone of our team and if we can score a few runs, it could be a really good season for the Warriors of Liberty."
The 2018 title was the fourth State Championship Liberty Christian has won in the sport of baseball, but Isom said, while the trophies are nice, it is something more important that he wants his players to achieve through the sport of baseball.
"We are a little 'different animal' than most [teams] and success for us is having a season that brings honor and glory to our lord Jesus Christ," Isom said. "Whether that is showing people how a team that truly loves the Lord is humble in victory, or gracious in defeat, our season is devoted to Him."
Over at Argyle High School, the Eagles wrapped up 2018 with an undefeated season and won a UIL Class 4A State Championship.
Argyle amassed a record of 37-0 to become only the fourth team in UIL history to finish the season undefeated, including Lorena High School in 2003, Colmesneil High School in 1986 and South San Antonio High School in 1967.
The Eagles run-ruled Jasper High School in the state semifinals last season by a score of 14-4 in six innings; and, the scary thing, for opponents, is that most of the team is back.
Among the returning players are catcher Austin King, second baseman Preston King, third baseman Cade Merka, outfielder Alex Gonzales and utility player Chad Ricker who were each selected to the All-State Tournament team last season.
The Eagles did lose last year's State Tournament MVP Bryson Hudgens, but return first-team All-State pitcher Sean Bolin and first baseman Hayden Clearman, along with second-team All-State outfielder Dillon Carter and short stop Brenden Dixon.
For Denton's Guyer High School 2018 baseball team, a 20-9-2 season and 8-6 district mark put the Wildcats just out-of-reach of a postseason berth; but, 2019 could be different.
The return of All-State Honorable Mention Luke Piper at catcher, with five players who have signed national letters-of-intent– give Guyer a solid corps that should rival for a 5-6A playoff berth and possible District Championship in 2019.
Zach Cantu (McPherson College), Max McCready (Eastern New Mexico State), Dylan Parham (Weatherford Junior College), Kyle Gscheidle (Tarleton State), Tyler Sampson (Paris Junior College) plus Jordan Beminio should all have strong senior seasons for the Wildcats.