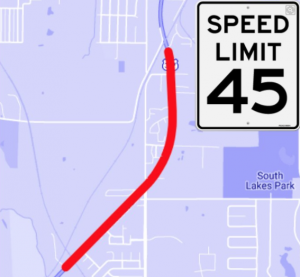 The city of Denton has lowered the speed limit on a stretch of Hwy 377 because of an ongoing construction project.
The speed limit has been reduced from 50 mph to 45 in the stretch of Hwy 377 in far south Denton from Roselawn Drive to south of FM 1830, according to the city. The construction project which started late last year and is expected to take about two years, will widen a 1.5-mile section of Hwy 377 from a two-lane rural roadway to a six-lane urban section, according to a city news release.
The construction area starts at I-35E and extends to FM 1830. The project will include replacing the existing Union Pacific Railroad bridge as well as improving the intersection of Hwy 377 and FM 1830.