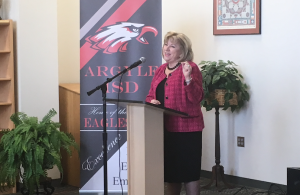 On Monday, the Texas Senate unanimously approved SB 3 by State Senator Jane Nelson, R-Flower Mound, providing a permanent $5,000 annual salary increase for every classroom teacher in the state.
The bill will now go to the Texas House of Representatives for further consideration, according to a news release from Nelson's office.
"It has been a decade since teachers received a small raise from the state," Nelson said. "It's been two decades since they received a meaningful raise. It's time to give our teachers — all of our teachers — a raise."
Specifically, SB 3:
Establishes a new Classroom Teacher Salary Allotment
Directs that each classroom teacher and librarian is entitled to a $5000 salary increase above their 2018-19 school year salary
Specifies that raise is paid for by the state
Clarifies that this bill does not preclude districts from offering merit raises
Ensures that districts may not use these dollars to supplant current salaries.
SB 1, the Senate's base budget, includes $3.7 billion for SB 3. Teacher pay was designated as an emergency item by Governor Abbott in his State of the State Address.