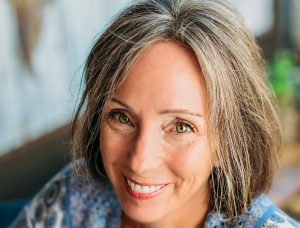 It has been a year since I first introduced you to the book The Turquoise Table by Austin author Kristin Schell.  In a nutshell, this book is the story of a woman who had a desire to slow down, connect with her neighbors, and wanted to be intentional with everything from color to conversation.  Reading the book has changed my life in many ways.
I shared the book's concept with anyone who would listen (including writing last February's column on it).  As a direct result of that writing and it's sharing by a Cross Timbers Gazette reader, I was able to welcome the author at the picnic table in my own front yard!
My husband and I have hosted a half dozen or so events for our neighbors at our turquoise table.  We hit a glitch when our HOA decided that a picnic table was more seating than allowed in the bylaws so we were forced to move the table to the backyard (boo!), now we pull it out front on occasion to hang out with whomever feels like joining us for snacks, beverages and casual conversation.  It's definitely less convenient to have to bring it out from the backyard each time, but we are not deterred because we are well aware of the disconnected culture we live in and we hope to be a conduit for change.
Speaking of change, one of the big ways reading the book has changed my life has nothing to do with neighborhood gatherings.  As mentioned, I told anyone and everyone about this book so when I began working at Cook Children's Medical Center (CCMC) in Fort Worth my boss and coworkers got an earful as well.
They loved the book as much as I did and we have been working on creating a program that will inspire simple hospitality and support and community building at the hospital.  One of the ways I believe CCMC can improve their Family-centered Care model is to pay more attention to the parents who bring their children in for medical treatment.  After all, parents are key players and the best advocates for their children.  We take care of them and it helps the child get better as well.
To that end, The Turquoise Cart Program is almost ready to launch!  This is an initiative that will put the emotional needs of the parents who are staying inpatient with their children at the front and center.  We've literally taken the table concept and put wheels on it!
After surveying CCMC parents through Survey Monkey and individual in-person interviews, we've identified three key areas parents are most needing better support.  Part of the answer includes food so our cart will bring pots of warm soup and crackers directly to the rooms of the two areas we are piloting this project in.  As a result, hungry moms and dads won't have to leave their child to eat.  They will be nourished with the comfort of a bowl of warm soup.
The cart will be manned by trained parent volunteers who have also experienced at least one (if not more) inpatient stay with their child so they will be able to empathize with the parent who is currently staying at Cook Children's.  The essence of the program is to have parents supporting parents in their moments of challenge and in their joys as well!
One other way the book has inspired me and the idea of community building centers around another group of local parents. I have created a Meetup to support local moms of tweens and teens called Moms Empowering Moms – DFW.  The mission is to build community among women who are raising adolescents in our sometimes overwhelming culture.  Parenting teens is tough!  (I know because my final two are 13 and 16!)
We meet once a month on the fourth Monday night in Flower Mound.  If interested you can get all the details at www.meetup.com.  Though we have occasional speakers on topics relevant to parenting this age group, the mission of Moms Empowering Moms is to build a community of like-minded women willing to come to share, grow, learn, and encourage one another.  We need to be honest about parenting through this stage and to work together to help raise tomorrow's leaders.  It takes a village, right?
It's funny how reading a book can change your life. What have you read lately that changed your perspective or stirred your soul?  I'm always looking for new titles; I'd love to have you share your favorites with me!