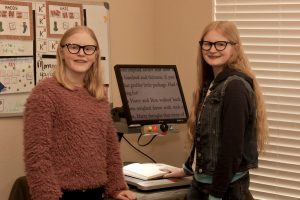 Above the couch on a wall of the Kolb family's living room– in the Magnolia section of Lantana– is a sign that says: "If you keep on believing, the dreams that you wish will come true."
Never has that been more relatable than for sisters Madison and Kaetlyn Kolb. Since they were babies, they have had Albinism, a congenital condition marked by no pigment in their hair, skin and eyes. Their skin and hair are white and their eyes are pink. Even with glasses, their sight is hindered with Madison rating at 20/100 and Kaetlyn at 20/80.
Thanks to the Denton Independent School District, the girls are equipped with tools and gadgets to help magnify what they can see. These include a special closed-circuit television they wheel around on carts, plus bar and dome magnifiers to enlarge visuals and written words; and, a little monocular telescope to see things further away.
Madison, 13, is in 8th grade, while Kaetlyn, 12, is in 6th grade at Harpool Elementary School. Both must sit by themselves in the back of their classes, because of the cumbersome carts.
But, if all goes well, that soon will change.
Last year, Madison learned about a new technology called eSight Eyewear, electronic glasses that– through a high-speed camera– capture and display images in real-time allowing people– like the sisters– to have normal vision. Time Magazine even recognized eSight as one of the best inventions of 2017.
Madison saw someone wearing a pair on a field trip and immediately started extensive research. She found out that while the company is based in Toronto, it sends consultants to put on demonstrations for potential customers. When Madison took part in one, she was able to read the 20/30 line on the eye chart, while her sister read at 20/20.
Trouble is, the custom lenses cost $5,950 each. Though down from their original $9,500, the cost is still taxing to most family budgets. So, just before Christmas, the girls partnered with eSight to launch an online fundraising campaign.
"Our hope is that eSight will make that part easier and, potentially, they can use them instead of the carts at schools," said the girl's father, Chris Kolb.
He said the glasses work a little bit like a phone display with very small goggles similar to what people wear for virtual reality.
"It looks pretty futuristic, almost like Star Trek or something like that," he said. "When you see the video and how the technology can help them with their lives it's just amazing."
Unknown to the Kolbs, Greg Meshell, Madison's math teacher and Harpool's volleyball coach, also started a fundraiser for them.
Combined, the two funds already have raised nearly $4,500.
Madison and Kaetlyn are two of the Kolb's five girls. The others are Emma, 14, a freshman at Guyer; 10-year-old Alyson; and, six-year-old Ava, who also has Albinism, but can see fairly well.
They have lived in Lantana for the past five years, after 11 in Aubrey. Chris works in service management for SAP. When not helping her children, mom Casey, is an independent travel agent.
According to Chris, the chances of any one baby having the condition is 1-in-17,000. That number changes dramatically for the children of parents like them, who both carry the gene, though neither knew of any family members with the condition.
They learned Madison had Albinism at four-months-old. Soon after Kaetlyn was born, they knew she also had it.
"The first things we noticed with Madison was her eyes would shake and they would turn in so we knew fairly early on," Casey said.
Madison didn't crawl until she was one-year-old and didn't walk until she was two. She had eye surgery at 18-months-old.
While they understood there's no cure to Albinism, the Kolbs have found many ways to cope with it. With eSight, they have two goals– to make every day a little better for the girls and to be an inspiration to others.
Visit giving.esighteyewear.com/madison-and-kate-kolb to learn more.