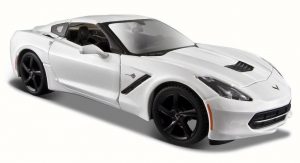 This past May my husband sat down to dinner and announced he was going to buy a Corvette.  He has mentioned this fantasy in the past (like over the past fifty years) but I shrug it off as just that ~ a fantasy.  Within a day of discussing this insanity he convinced me to take a ride down to the Corvette dealership.  I figured, "What the heck?" sounded pretty innocuous.
The showroom offered cars from every year, style and color imaginable.  They were breathtaking!  I could see my husband starting to drool….not a good sign.  He kept gravitating toward the colorful ones, and convertibles.  I decided if he was going to buy one of these useless speedsters, I was at least going to have my say about the color.  The white one with the awesome wheels and sassy black trim caught my eye and consequently I also began to drool. I stood right next to my favorite while Ken roamed around every inch of the other parts of the showroom floor.  I was beginning to get a little peeved as he had ghosted me.
Finally, I persuaded him it was time to go so we hopped into my very practical 2014 Chevy SUV Equinox.  Oddly, there was very little conversation on the way home.  This is always a bad omen.  It either means I'm mad about something or Ken is in deep thought… processing.
The very next morning he was up bright and early and gone when I got up. I texted him hoping he could stop by the grocery store on his way home.  "I can't I'm in the driveway."  And surenuf, there he was in the white Vette!  It's a pretty thing that has a removable roof, in case you want to morph it into a convertible.  Corvettes aren't meant for practicality, instead they garner the market on swag.
My biggest accomplishment is when I manage, with no assistance save a backhoe, to get out of the car.  I've about figured out how to slide in all by myself.  Another useless feature is how low to the ground it sits.  A friend of ours, who also owns one of these high performance vehicles says he always envied others who owned one.  At last he had to scratch the itch because he figures in another few years he'll be too feeble to get in or out.  See, I'm not the only one!
Ken bought the white one to please me and especially because it's an automatic…I never learned to drive a stick shift. I can just envision myself behind the wheel over at the Texas Motor Speedway doing 200 mph like they show on a YouTube video.  Truth is I've driven it around the block three times!  It was a good thing I had a pillow under me so I could see over the dash.
And on all three road trips I thought my husband was going to go into cardiac arrest. Much more than the sighing came sounds of catching his breath and grinding his teeth. "No, no, get over to the right, other right."  He made me as nervous as I made him!
He refuses to take his baby to the car wash and keeps it tucked away safe and sound in the garage, especially when it rains.  Instead of taking it out, even in a sprinkle, he commandeers my sensible SUV.  He does this with reckless abandon.  Although he does ask for my permission, like what am I going to say, "NO?"
Maybe for Christmas next year I'll get him a private driving lesson (on a rainy day) from Dale Earnhardt Jr.  Heck, maybe I'll get one for me, too!