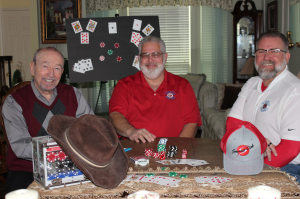 The Summit Club of Flower Mound was officially formed in 1974 and has operated as a non-political service club ever since. The members strictly adhere to the founding principle that politics should be left at home. The club includes a diverse membership of men, including local business leaders, civic leaders, retired men and men that commute to careers in the DFW Metroplex. Membership is open to men that live, work, or have an honest interest in helping the Flower Mound Community. Their Mission Statement talks about fostering community leadership through community service. "We support local charities, organizations and activities that promote and demonstrate to our youth that giving back to the community enhances the quality of life for all. Both today and tomorrow."
Summit Club meetings are held on the first Thursday of each month at 6:30pm, at Gabriela & Sofia's Tex-Mex Restaurant, 930 Parker Square, Flower Mound. More info can be obtained at: www.summitclub.org/ The following is from the site:
"The Summit Club's annual Western Saloon & Casino Night is scheduled for March 2nd 2019 at the Circle R Ranch in Flower Mound. This local event has become an annual Flower Mound tradition and again the place to be on the first Saturday of March for plenty of fun, gambling, great Texas BBQ, live music, dancing, cold spirits, and saying howdy to new and old friends! They had a great run and partnership with Christian Community Action for the first five years of the event, but this year they've decided to partner with and benefit two new groups.
"They are proud to be working with the Flower Mound Professional Fire Fighter's Association and the Flower Mound Police Officer's Association to raise funds at this great event. These two groups will be our primary beneficiaries with the remainder of the funds going to help support the club's efforts with our educational endeavors and the other organizations that we support.
"Y'all will have to check your guns at the door because some of the Who's Who of Flower Mound and Denton County will be there as always. Over 300 people are expected for this year's event, all wearing their best western attire, so put on yer hat and cowboy boots and come join us for a fun night out!
"Western Saloon and Casino Night boasts an exciting casino style party, a lavish silent auction, live music, dancing, a photo booth, amazing door prizes, mouthwatering ranch-style barbecue buffet, deserts and cold adult beverages to wash it all down.
"It's not just for fun; remember it's to help support the Flower Mound Police and Fire Fighters Associations along with other local charities and the great work they do in our community! Live music this year is by Terry & Friends.  We'll also have some great raffles throughout the night…"
To get your tickets and find details and event information check out the information below.