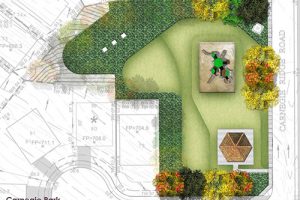 A small park is in the planning stages for the growing Carnegie Ridge subdivision, and City of Denton Parks and Recreation staff members are seeking input from nearby residents.
Many homes have been built over the past few years in Carnegie Ridge, located northwest of Crawford Road and John Paine Boulevard, with lots more of undeveloped lots left to grow. It is just within Denton city limits, but is close to Argyle.
Denton Parks and Rec is working on a proposed park development project, according to the city website. The neighborhood's first park, currently referred to as Patrick Park, will be located at the corner of Carnegie Ridge Road and Ridglea Court, and Parks and Rec staff want residents' input.
Staff members will host a public meeting for input regarding the proposed park at 6 p.m. on Tuesday, Feb. 19 at the Carnegie Ridge Neighborhood Amenity Center, 6421 Meandering Creek Drive. If you are unable to attend the meeting but would like to provide input, you can send an email to [email protected]