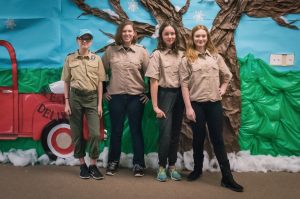 One of the first female Boy Scouts troops has formed in southern Denton County.
A local scouts troop became one of the first in the country with female members on Feb. 1, 2019.
In 2017, the Boy Scouts of America board of directors decided to open up the organization's programs to girls, too. The organization now goes by the name Scouts BSA. Cub Scouts, for elementary school-aged children, opened up to girls first. Then, beginning Feb. 1, all-female Boy Scout troops could be created.
The decision was met with criticism, as many people wondered why girls wouldn't just stick with Girl Scouts and let boys have Boy Scouts. But the two organizations aren't related and don't offer the same opportunities and activities.
"They're two completely different organizations," said Heather Grein, of Argyle. "It's like Chick-fil-A vs. McDonald's."
Grein's 13-year-old son, William, joined a Cub Scout pack about eight years ago and is currently in a local Boy Scout troop. At the Cub Scout level, Heather said, the family is heavily involved.
"In the beginning, it's a family thing," she said. "We were there with his sister."
William's little sister, 11-year-old Hannah, had always been interested in the activities her brother got to do in his Cub Scout pack and Boy Scout troop. Recently, William achieved the hiking merit badge by hiking Grand Canyon with his family, including Hannah.
"She's been doing it, but wasn't getting credit for it," Heather Grein said. "Not all girls fit with the Girl Scouts selling cookies."
Heather said the main reason why Hannah wanted to join Scouts BSA was because she wanted to be an Eagle Scout.
"If you can put Eagle Scout on your resume, that always puts it at the top of the list for employers," Heather said.
So when BSA decided to allow girls, Heather looked into it. Girls are not able to join boy troops, but they can form a sister troop if the charter organization — usually the place where troops meet, such as a church — and the boy troop both agree to allow a sister troop to be formed. BSA Troop 191 and its charter organization, Faith United Methodist Church near Guyer High School, both agreed to accept a female sister troop. Heather said a Scouts BSA troop needs at least five members, and Troop 219 is starting with six, including Hannah.
Two of the girls in Troop 219 are currently in Girl Scouts and plan to continue it. Heather said girls will have the opportunity to achieve the Gold Award, the highest rank in Girl Scouts, and the Eagle Scout, the highest rank in Scouts BSA.
"They'll call it the Golden Eagle," she said.
Male and female Scouts BSA troops will be able to do some activities together, but they will have separate troops, leaders and camp sites. Troops 191 and 219 meet Mondays at 7 p.m. at Faith United Methodist Church, 6060 Teasley Lane, Denton.
Katrina Frank, Frontier Trails District family scouting rep, said another local female Scouts BSA troop, Troop 771, has been created in Argyle, and another one is coming soon to Flower Mound. If your kid(s) are interested in joining a local Scouts BSA troop, contact Frank at [email protected].
For more information about Scouts BSA, click here.