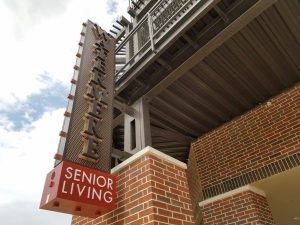 The Watermere of Flower Mound development request for rezoning– from agriculture use to Planned Development (PD-167)– received enthusiastic support from Planning and Zoning Commissioners on Monday evening.
Located south of Dixon Road and east of Valley Creek Church at the intersection with Long Prairie Road (FM 2499), the gated 15.8-acres independent living senior housing rental community is for residents aged 55-or-older.
It's the town's third independent living senior rental housing project– the second on the east side of Long Prairie Road, within the town's senior overlay. The area includes sites located 2,500-feet on either side of Long Prairie Road, from Justin Road (FM 407) down to the northern boundary of the Lakeside Business District.
Approved in March 2017, the Master Plan Amendment created the overlay district for affordable, high-quality, senior housing options with quality amenities and services for residents 55-years-of-age or older.
"We've been building our facilities for 20-years– with 2,400 units– we've perfected the community atmosphere," said Paul Milosevich, chief investment officer of Integrated Senior Lifestyles, which runs Watermere and Watercrest projects across Texas.
That the Watermere at Frisco campus received the award for 2018 Best 55+ Independent Living Community from the National Association of Home Builders is proof of the developer's expertise in creating luxury senior communities.
"All Watermere facilities include full kitchens with granite counters and luxury appliances," said Milosevich, adding washer and dryers are also included in each unit.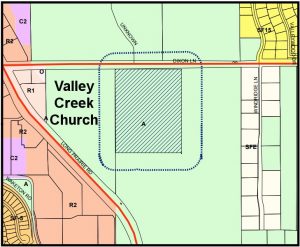 The community amenities include: a clubhouse with game room and lounge area; a full-service dining room with 20- to 25- chef and service staff; a beauty salon; a dog park; landscaped resident pathways and covered parking areas; a detached, covered pool building with retractable glass doors for year-round use; and, access to an amenitized off-site retention pond. In addition, it will have two activity program staff members.
Watermere offers residents customizable lifestyle packages to fit specific needs, services and budgets. Choices in dining options, housekeeping and linen services, onsite storage spaces, garages and covered parking options are available.
The Watermere project will be developed in two tracts with specific-use standards.
At the urging of town staff, Tract 1 is for a dedicated Office District (O) of approximately 3.45-acres with three two-story buildings at the northwest side of the Whyburn Drive entrance to the project from Dixon Road.
Milosevich said including buildings for future medical office tenants, "had to do with [town] staff and the [senior overlay] Master Plan Amendment zoning." The office district is for zoning only and no construction is planned at this time.
The 12.3-acres Tract 2 is for multiple senior housing buildings. It consists of approximately 10.88-acres for the senior housing community and 1.42-acres of right-of-way dedicated to platting the construction of Whyburn Drive at the eastern border of the project.
Naming the entry road Whyburn Drive is to honor the Whyburn family who's owned the full overlay 92-acres since the 1880s.
Currently, only 224-units are planned– the three-story Building A with 210-units and five elevators, plus four one-story villa Buildings B-E with an aggregate density of 14-units. The one- two- and three-bedroom individual residential units will range in size from 700-square-feet to 1,800-square-feet.
The only expressed concern about Watermere of Flower Mound is the possible Dixon Road traffic impact.
Voicing concern about existing cut-through traffic in nearby Waterford Park Estates– north of Dixon Road, was Adam Schiestel, president of that development's HOA. He cited the town's own tally of 1,100 cars at peak-time exiting northward through Eagle Creek. He added that town staff never contacted Waterford Park Estate residents about traffic impact, because its outside the 200-feet location boundary.
P&Z Chairman Perfecto Solis asked Town Engineering Manager Robert Pegg to investigate possible solutions to Waterford Park Estates' traffic issue.
"This type of development will generate less traffic than other developments would," said Commissioner Rob Rawson.
Commissioner Brad Ruthrauff put a reality-check on Watermere's impact on Dixon Road traffic. His time-line drew laughter when he noted that the average age of the resident's is 88-years-old, adding that most of the residents will rise early and, therefore, may be napping during regular work and school rush hour times, eat an early lunch and will have eaten their early-bird dinner– if they even leave the community– then be asleep before the regular evening rush hour and dinner-time.
"I feel comfortable that for this development traffic won't be an impact," said Solis.
Milosevich added that, because many of the elderly residents no longer drive, the community has its own van with designated stops daily.
"Even though we're not approved yet, we've secured our first residents– the Spraberrys," said Milosevich during a preliminary presentation in October 2018. "They have a daughter who lives in Flower Mound and her parents used to live in Lubbock. After they retired, she moved them up to our Frisco Watermere. When she heard we'd have a Flower Mound facility, she called and signed them up."
The commissioners voted unanimously to recommend Town Council approval of the rezoning request scheduled for council review on Feb. 18.