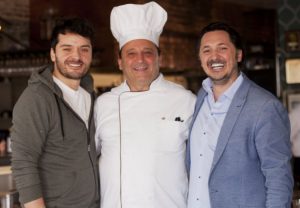 Growing up in the war-torn country of Kosovo, Noti Krasniqi had early visions of being someplace else.
"I remember when I was probably eight-years-old, one of my teachers asking me what I wanted to be when I grow up and I said, 'I just want to go to America,'" said the Flower Mound resident and business owner.
"I never knew what I wanted to do. I just knew I liked to make things happen. I love building things– like in construction– and still am, but I always knew I would come here and [see] what happens."
Three decades later, he has become a true American success story.
As co-owner of three Mio Nonno Trattorias, the 39-year-old is living the dream with his childhood friend, Chef Ati Mala. They opened their first Mio Nonno in Allen in 2015 and the Flower Mound location in Lakeside DFW in 2017. They recently added a third location next to the American Airlines Center (AAC) in downtown Dallas and hope for another soon near the museum district in Fort Worth.
"Were it not for what happened in our home country, we wouldn't have enjoyed the success we have here," Krasniqi said. "Kosovo is a great American success story. Americans went in, bombed for 80 days and there was no casualties on our end and we are where we are today because of Americans. They've been big U.S. supporters over there. Always have been."
Krasniqi and Mala left their southeast European homeland, in part to escape the Kosovo War of 1998-1999. They were preceded several years earlier by their fathers at the height of the Bosnian War. Both boys had stopped going to school after seventh-grade, since their textbooks were written by Serbians; who didn't allow the Albanians to learn of their own heritage.
"The region I come from in Kosovo we're all stubborn," Krasniqi said. "If you want enough A-type personalities, take a trip to Kosovo. That's why we all do well here."
Mala moved to the U.S. in 1995, when he was 15-years-old and Krasniqi followed two years later. Mala initially lived with his father in New Jersey before moving to Texas, while Krasniqi stayed with his father, Shaban (Sam), in New York.
Soon after Krasniqi moved to the U.S., he got a job as a busboy at a restaurant called Saracen in The Hamptons, where Franco Russo was executive chef. Speaking little English at first, Krasniqi was quickly promoted to waiter, working with Russo for seven years, before Russo went to Boca Raton, Florida; and, Krasniqi went into construction work.
The young friends reunited in 2012 in The Hamptons—where Noti and his brother Sammy co-owned Mediterranean restaurant Andrra– and again in Allen in 2016 and Flower Mound in 2017; after Krasniqi followed Mala to Texas.
"I would come here almost every year until I moved here," he said. "I came to visit in December 2013 and in March 2014; I packed up and came. Ati was very persistent. He said 'let's do this together.'
"When you can make a restaurant business successful, you know you are in that caliber of businesspeople, the top two-percent."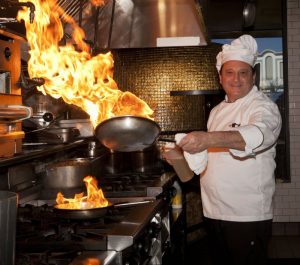 His father's first job in the U.S. was as a dishwasher, a job the elder Krasniqi got through his uncle and aunt. Being the honest man he was, he told the people back home that it was his job and he enjoyed it.
"My biology teacher in sixth-grade made a joke in front of the kids that the kid who didn't finish his homework was going to go to America and wash dishes," Noti said. "That really offended me a lot. It was really, really bad.
"Last year I went to his house and told him [that] I wash dishes and have a substantial number of employees working for me. He was proud of me. He said 'I'm glad my words affected you.' "
After the success Krasniqi and Mala enjoyed in Allen, they were going to expand into Southlake, until a friend of Krasniqi's– who knew the developers at Lakeside– persuaded them to consider there. At the time, the massive project was still in its infancy and Noti was a little reluctant to pull the trigger. But, his friend insisted and he decided to take the chance.
"I like to brand myself as a pioneer," he said. "I came to Lakeside when nobody was around and I'm going over there (near the AAC) where nobody's around, too. I put in cultures in areas of town that I know will pay off.
"I said, 'I'm going to come to Flower Mound and show what I can do.' What we do is simple. We're not reinventing the wheel. Could we reinvent the wheel? Yes. Do we like to do that? Absolutely. Do we have to do that? No. We do something that we know already and I always say, 'you don't have to fly to New York.' We'll bring it in here.
"I like to focus on our service. It's hard in DFW to find people who want to do it. Those guys we have are like family. My number one priority is my people that work for us; that make this thing happen. My number two is my guests. I don't like to say customers, because when you come to my restaurant, I bring my Albanian customs. We have a sense of when you walk into our house you are our guest and we take care of you until you leave."
Noti grew to love Flower Mound so much he moved his family to the town two years ago, from Allen, because the community reminds him of Long Island.
"I'm part of this community and I want to be more involved," he said. "Our slogan is: 'think locally but act globally.' We're local guys, but one day we're going to have a brand and people will say they started here and we're not going anywhere.
"The thing about Flower Mound is there are adamant supporters, die hard. I call Flower Mound home.
"I'm glad I lived in New York, because it shaped me for what I am today. But I swear I don't know how to live anywhere else than here. I swear, if I went back to New York, I would lose my mind. I'm used to people being so nice here."
Mio Nonno is located at 2450 Lakeside Pkwy, #100, Flower Mound. Call them at 469-804-7472.