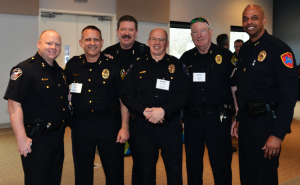 8th Annual Denton County Mayors Crime Prevention Luncheon – Huge Success
When I lived in Bay City, Texas (population 18-20,000), for six years I served as the City Attorney, Municipal Prosecutor, and Police Advisor. The experience gave me a huge respect for the tremendous volunteer hours Mayors and Council Members give to their Town and admiration for the incredible dedication and professionalism of our law enforcement officers. As Mayor of Copper Canyon, I wanted to honor the leaders of both those groups – Mayors and Police Chiefs – and give them a chance to gather together for both fellowship and mutual learning. And, to also include the next layer of local government officials, the Denton County Commissioners Court and the Sheriff's Office. And, when they are not in session, some of our Denton County State legislators attend the Luncheon and even U.S. Congressman Michael Burgess came once. Each year attendance at the Mayors Crime Luncheon has grown. This year there were ninety-one attendees!
The first few years Copper Canyon hosted the luncheon in our 40-year old plus Copper Canyon Town Hall. Our volunteer Hostess Committee, composed of ladies of Copper Canyon, baked homemade pies and desserts – Pris Johnson's sugarless banana pudding being a perennial favorite! Mary Alexander, a re-known baker for her neighbors on Estates Drive, contributed several pies – lemon chess, coconut chess, and raisin pie – her Dad's favorite! But, the luncheon was so popular that our guests were finally crammed in elbow-to-elbow seated at our folding tables in the Council Chambers of Town Hall.   So, three years ago, we moved the luncheon to the newly renovated Briarwood Retreat on Copper Canyon Road.
CoServ Electric has financially sponsored the Denton County Mayors Crime Prevention Luncheon for the last 5 years.
This is a HUGE help, because a Town as small as Copper Canyon does not have funds for "events". CoServ has covered the cost of the food for the luncheon and rent for the Briarwood facility. Myself and Town Administrator Donna Welsh have organized the event, and Council Member Bill Castleman has been invaluable in scouting out law enforcement speakers from the FBI and elsewhere.
CoServ Chefs – an Incredible Contribution to Community & School Events!
For the last two years CoServ chefs Perry Ancell and Jeff Richardson have been cooking for the Mayors Crime Luncheon. And, we have been receiving rave reviews about how wonderful the luncheon food is! Ancell and Richardson built the first CoServ cooking trailer from scratch. It was 20' long and 7' wide. It did not have any serving area, but inside was a smoker, griddle for hamburgers, refrigerator and sink. CoServ's latest trailer was built in Atlanta, GA. and is 42' long by 7.5' wide with serving windows. It has a refrigerator, freezer, and can serve snow cones, cotton candy, and up to a 1000 hot dogs. It also has a griddle for hamburgers. CoServ often volunteers this trailer for school events!
Chef Jeff Richardson's regular job with CoServ is Power Quality, doing electrical load balancing and putting up regulators. But, as a CoServ Chef he cooks 30 briskets at a time. Briskets and chickens are purchased from Restaurant Depot in Dallas. He says we wear gloves to put Tenderquick on the briskets. (Jeff said the gloves prevent the Tenderquick from allowing anything to soak into the pores of our hands and forearms.) The Tenderquick remains on an hour and lets the smoke soak into the briskets. Then we wash all the Tenderquick off the briskets and salt and pepper and season the briskets. The briskets are smoked for 10-12 hours. (Longer for sliced briskets.) They pull the briskets off after 6 hours and either put in covered pans or wrap in foil or preferably brown butcher paper. (Jeff said the foil gets too hot and pulls the juices out of the brisket.) After smoking is completed, the briskets are cut up, vacuum packaged, and frozen. This method allows the briskets to easily be thawed, warmed, and ready to serve at many events.
Jeff said their sides are cream corn (corn, butter, cream cheese, salt and pepper), pinto beans or baked beans, and potato salad. They personally make or buy the sides. Different employees volunteer and are selected to serve and clean up. Jeff said he often personally washes the cooking and serving dishes. Jeff also competes personally in cooking competitions for brisket, ribs, chicken and beans.
CEO Donnie Clary welcomed Everyone and explained Operation Roundup
Donnie Clary has been the CEO and President of CoServ since 2014. He started with CoServ in 1990 as Controller. He said the electric meter count then was 25,000, but now it has increased to 236,000! Operation Roundup began as a way to give back to the communities that CoServ serves. Receivers of electricity can volunteer to "roundup" their monthly bill to the nearest dollar amount. The most any electricity user could pay would be less than $12 in a yea. But, these pennies add up! Funds raised by Roundup for last year's community grants were $1.267 million dollars. Total community grants to date are $9.8 million dollars! 
Typical grants are for Education Foundations for public school districts, safety equipment for municipal police departments (i.e. bullet-proof jackets), and specialized medical equipment for the ambulances of fire departments. Our Argyle Fire District has received special heart equipment and automatic CPR monitors. Each table at the luncheon had a single-spaced page long list of CoServ Community Grants for the past three years to multiple groups. The list was meant to give attending elected officials and law enforcement personnel an idea of the types of grants they might apply for.
Denco 911 Kid Heroes
The Luncheon started with recognition of the most recent recipients of Denco 911's Kid Hero Awards – Hunter Paradise, age 9, and Chase Owens, age 10. Also recognized was Roanoke Police Department telecommunicator Meredith Ravenscroft, who took the 911 emergency call. The boys were riding in a vehicle in Roanoke driven by Hunter's dad Justin Paradise. When suddenly Mr. Paradise realized he was having an emergency medical event. He was able to swerve the vehicle into the nearest parking lot before he became totally unconscious!
Through the vehicle's speaker Hunter and Chase were able to call 911. Roanoke's telecommunicator Meredith Ravenscroft answered and was able to guide the boys to give the necessary facts for a swift emergency response. First, they gave her a description of the parking lot they were in and a description of the vehicle. Chase even thought to give her the vehicle's license plate number.
But most importantly, the boys told Ravenscroft that Mr. Paradise had just taken medication before he went unconscious. Hunter and Chase retrieved the drug container and read a description of the drug and dosage from the container label. Ravenscroft was able to relay this information to the responding paramedics, so they could contact their hospital destination for instructions on how to respond to this possible drug reaction. The excellent outcome for everyone was that Hunter's Dad Mr. Paradise was expected to make a full recovery.
Unfortunately, Mr. Paradise could not be released from the hospital in time to make the Crime Luncheon. But Hunter's mother Lindsey Conry and Chase's mother Brooke Owens were present and could be the keepers of their sons' award. Each boy received two new $20 bills, so they could attend two events Hunter's dad had suggested – another Cinemark movie and possibly bowling at Main Event.
Roanoke's Mayor Scooter Gierisch recognized his Police Department's telecommunicator Meredith Ravenscroft for her excellent job in keeping the two young boys calm and retrieving such critical detailed information from them. Police Chief Jeriahme Miller humorously commented that when he had presented each boy with a 4" x 6" official embroidered Roanoke police patch to sew onto a jacket, ten-year-old Chase had asked him in a very serious tone – "Are we hired?"
Many surrounding counties recently lost their 911 Service for hours!
Denco 911 ran smoothly during that time and did not lose a Minute!
Greg Ballentine, the Deputy Executive Director of Denco 911, was present at the Crime Luncheon, and Mayor Tejml recognized his incredible technical contribution to making Denco 911 so reliable! Ballentine was previously the Executive Director over a 911 system in the Midwest that served multiple counties. However, he and his wife had lived in our area before and wanted to "come home." So, Ballentine agreed to take the "number two" position in Denco 911 to back up Executive Director Mark Payne. Ballentine and Payne work seamlessly together giving Denco 911 an incredible pool of executive talent and technical expertise. Small wonder that our Denton County 911 is recognized as a premier emergency response system both in Texas and with national recognition!
Denco 911 offers tours of its new "hardened" Annex to Elected Officials and Law Enforcement Personnel
The new "hardened" annex can withstand a variety of extreme weather and other challenges: flood, fire, snow and ice, tornado winds, loss of electricity. The annex not only has the capacity to continue 911 service through all the prior events, it can also become a backup call center for multiple call centers in Denton County that  suddenly become non-functional for whatever reason. That is critical redundancy for 911 emergency services! 911 calls will continue to be answered, and the appropriate First Responders dispatched!
Three of the five long serving Commissioners on the Denco 911 Board of Managers were present at the luncheon and recognized: Bill Lawrence (former Mayor of Highland Village), Jim Carter (former Mayor of Trophy Club, former Denton County Commissioner, and current President of Denton County Emergency Services District #1), and Sue Tejml (Mayor of Copper Canyon.)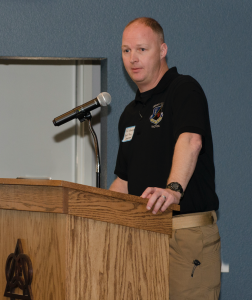 Lt. Paul Willenbrock – Denton Police Department's Tactical Unit Commander (SWAT) presented "Active Shooter" – Are you a "Soft Target?"
Council Chambers? Municipal Courts? Customer Windows?
There were two Presentations at the Luncheon. The first was Lt. Willenbrock who reviewed the FBI's standard advice for anyone confronted with an "Active Shooter" – in this order – RUN, HIDE, FIGHT!
RUN – Do not stop to collect belongings – purse, wallet, medicine, glasses. These are all replaceable things. Your life isn't. Do not stop to render aid to another person. This advice goes totally against our humanitarian instincts to help another human being. But stopping to render aid could cost you your life. Wherever you are, always be Aware of Exits! In a store, in a restaurant, in an office, in a movie, at a sporting event, in a church, in another home.
HIDE – If you can't run, hide and be quiet. Turn your cell phone off. If there isn't a place to hide where you are, look for a nearby area or room where you can close a door. Lock the door if possible or push furniture in front of it. Try to be inaccessible to the shooter or where he wouldn't usually look.
FIGHT – If you can't run or hide, turn and fight with whatever weapon is available – a pencil, a shoe, a purse, a chair. Don't bother pleading for mercy. The Active Shooter is already committed to kill.
In Denton County you can silently text 911 – but do that only after you have run or hidden.
NOTE: The day after his Presentation at the Mayors Crime Luncheon, Lt. Willenbrock was promoted to one of the City of Denton Police Department's two Chief Deputy positions.
Andy Eads – our new Denton County Judge presented "Denton County Commissioners Court – 2019 Goals." Judge Eads said that the County would continue addressing ongoing issues such as:
(1) Transportation and Infrastructure needs,
(2) An organized effort to retain and recruit quality business developments,
(3) A continued effort to give County employees a positive work environment and the best pay and benefits financially feasible,
(4) Support its law enforcement personnel for a continued reduction in crime,
(5) And, do all the above within the County's continued low property tax rate.
(6) And, the County would continue to respect the preferences of local governments for economic development or to keep their area "rural".
But in addition, Denton County was going to address the human challenges of Homeless Teens and Human Trafficking in our County.
(County Judge Eads will elaborate on his presentation in his own column in The Cross Timbers Gazette.)
Denton County Police Chiefs: Police Depts. 2018 Greatest Accomplishment –
2019 Greatest Challenge
Lewisville: Retired Police Chief Russ Kerbow
Lewisville's new Chief Kevin Deaver was in Austin at the required training for new Police Chiefs. But Lewisville's very respected retired Chief Russ Kerbow accepted my invitation to attend the Denton County Mayors Crime Prevention Luncheon. Kerbow said the prevailing challenge for all police departments is to "retain and recruit qualified people. In 2018 there were seven police officers' deaths nationwide, so the profession has become much more dangerous. This increased the competition for qualified applicants in North Texas, who could choose a different career with less threat of bodily harm or even death."
Chief Kerbow had initiated the quarterly Denton County Police Chiefs Association breakfast. The recent one was hosted by the City of Denton's Chief Frank Dixon and 25 Police Chiefs attended. New officers are: President Doug Reim of Highland Village; First Vice President Robert Crawford of Northlake; and Second Vice President Andy Kancel of Flower Mound.
Chief Kerbow laughingly said that "his personal biggest accomplishment for 2018 was that he and his wife Becky Kerbow, a multi-year Denton County Justice of the Peace, both retired!"
Denton: Police Chief Frank Dixon
Chief Dixon has lived in Austin since he was 6 years old and been with Austin PD for the past 23 years. He became the City of Denton's Police Chief in October 2018. Chief Dixon wants to "build better internal communications and build on the positive relations in the community." The challenge for 2019 was "staying ahead of growth and keeping up with technology, especially report management."
He said Denton had no problems with hiring, but it took 12-18 months from recruiting, testing, training to put an officer on the streets. Chief Dixon also said that he thought it was "great how all police departments in North Texas work together!"
Double Oak: Police Chief Derrick Watson
Chief Watson said Double Oak PD's greatest accomplishment in 2018 was a good working relationship with the Sheriff's Office and neighboring Argyle and Bartonville Police Departments.
Chief Watson said the biggest challenge for 2019 was recruiting qualified applicants for law enforcement. "Though Denton County is blessed with a number of applicants, the sheer volume of applicants for police positions has declined tremendously in the last 20 years due to negative publicity. Double Oak looks at 25-30 applicants for one hire. The applicant must have: (1) A clean background with no Class B misdemeanors; (2) no past alcohol or drug abuse; (3) personal financial stability; (4) a good work history; and (5) Texas Law Enforcement credentials. (780 hours of classroom instruction. 16 weeks of field training. Basic Peace Officer certificate.) If they send a hire to the Academy, they pay $1000 for the training PLUS a basic monthly salary. And, it is 9 months before their "hire" is on the streets. So, they prefer a police officer with at least 2-3 years' experience.
Hickory Creek: Police Chief Carey Dunn
"In 2018 we started a canine program that has been successful in removing drugs from our streets and assisted in locating fleeing subjects and missing people. We updated our policy and procedures to reflect the most modern standards and meet Texas Police Chiefs Association Best Practices requirements. We have implemented a new hiring program that allows us to hire candidates that are not currently licensed police officers and send them to the Academy as an employee of the Town. We were able to give our existing officers significant pay raises, obtain 2 new patrol vehicles, and do this without significantly impacting our overall operating budget."
Highland Village: Police Chief Doug Reim
"With the recent school shootings, our Mayor, Council and Staff committed to adding another School Research Officer (SRO). This meant adding another full time Staff member, at the same time that Highland Village was proposing a cut in property taxes." This included an $80,000 plus staff salary with benefits and $50,000 for a fleet vehicle or $130,000 for the first year. And an $80,000 salary plus for the second and additional years. But, Highland Village's motto is "We grow our kids to be proactive contributing members of society." In Highland Village our children are our most valuable asset – and we are committed to protecting their safety.
Northlake: Police Chief Robert Crawford
Chief Crawford said Northlake was experiencing tremendous growth and experiencing competition in hiring police officers from the same pool of applicants in North Texas. Northlake PD has hired a full time Detective and an Administrative Assistant. Chief Crawford has his Master's degree in Public Administration and is considering going back to college to get his law degree.
(Northlake Mayor Peter Dewing, a retired Marine, did just that. He attended SMU for a law degree, while serving as Northlake's Mayor.)
Prosper: Police Chief Doug Kowalski
Chief Kowalski worked for 23 years with the Dallas Police Department, and many of those years with Highland Village's former Police Chief Ed O'Bara. He retired from 12 years in McKinney PD and went back to college for a Master's Degree.
Prosper's City Manager Harlan Jefferson, former City Manager of Flower Mound, asked Kowalski to be Prosper's interim Police Chief. Three months later, Jefferson asked Kowalski to become Prosper's permanent police chief. Kowalski said this is the "best job I've ever had! City Manager Harlan Jefferson is so down to earth and easy to talk with."
"Prosper is one of the fastest growing cities in the North Texas area! But last year we had a 25% reduction in Part 1 Crimes – the FBI uniform Crime Reporting of property crimes: theft, auto theft, burglary, and burglary of a motor vehicle and physical crimes: murder, aggravated assault, sexual assault, and simple assault."
But, this year we have an Addison based auto theft ring that has just started stealing in Prosper. The thieves try auto door handles, and if they are unlocked they steal from the vehicle or steal the vehicle. So far, we have recovered 2 of 3 cars stolen in Prosper."
Prosper PD's biggest challenge for 2019 is hiring good candidates. "We are all fishing from the same pond. And, the applicant pool has gone down. The negative publicity directed at police departments in the last several years has resulted in fewer young people interested in considering law enforcement as a career."