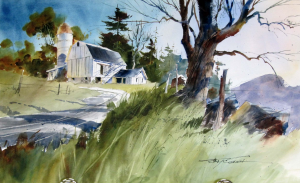 Internationally known artist Tony Couch will conduct a four-day watercolor painting workshop in Flower Mound in early February.
The workshop will be held at ART house Flower Mound, 6100 Long Prairie Road, from Feb. 4-7, according to a news release. He will be available to meet and greet visitors and sign one of his books for the public on Feb. 7 from 6-7 p.m.
Couch has won more than 70 national awards and his work has been included in three annual exhibitions of the National Academy of Design. He has produced three books on watercolor and produced 10 "how-to" DVDs.
The workshop will run from 9 a.m. to 5 p.m. each day. Anyone 18 and older is eligible to enroll, and the group is expected to be made up of people of all skill levels. For more information or to sign up for the workshop, click here or call 214-285-0084. The cost is $395.