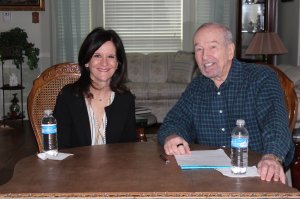 The dictionary defines Chamber of Commerce as "A local association to promote and protect the interests of the business community in a particular area." Essentially, a Chamber of Commerce gives local business owners the opportunity to network with other commercial enterprises, as well as assisting in promoting businesses to residents of a given community.
If you're a new business owner in a town; how do you market your product or service? One way is to advertise in local publications on a regular basis in order to achieve some recognition for what you're offering. In addition, you might want to join the Chamber of Commerce to broaden your appeal even more. Generally, business owners in towns and cities form these local societies to advocate on behalf of the business community.
The Flower Mound Chamber of Commerce is located at 700 Parker Square, suite: 100, in Flower Mound. Lori Walker, President of the FM Chamber, which represents more than 650 businesses, came over for an interview describing the numerous merits of being a Chamber member. From a personal standpoint, one of the highlights I remember, from when I used to promote a local business I was part of, is their Leads Networking breakfasts. Not only was it interesting to meet so many prominent figures from the business community and from elective office, but it was always a stimulating experience to hear them speak about the benefits they've enjoyed as members. The following is a brief description from the Chamber website: www.flowermoundchamber.com.
"When you attend Leads Networking, you will have the opportunity to stand up and give a 30 second introduction of yourself and your business. This gives those in attendance the chance to know who you are and to gain knowledge of the kind of lead that you are searching for. The whole objective of Leads is to meet other business people and to "cultivate productive relationships for employment or business." On an average there are 80 people who attend Leads Meetings on a regular basis and most of those have given testimony to the fact that Leads has been a large part of their business growth. These business representatives are people who believe that collectively they can accomplish more than one could do individually." Then, there are Chamber Mixers, another great marketing strategy discussed in the video interview.
In order to manage and lead a successful organization, such as the FM Chamber of Commerce has become, one must have the talent and skills of an experienced administrator. Like most flourishing organizations, the leader must be a people-person with the ability to make decisions based on prudent judgment and empirical knowledge. With an impressive resume too lengthy to print here, Lori Walker is undoubtedly the most competent person for the job. Moreover, she has an engaging personality that endears her to all those in her orbit.