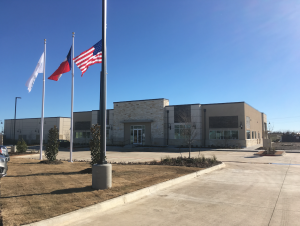 The staff of the town of Northlake recently moved into the new, bigger Town Hall.
As the Town of Northlake continues to grow, so does town staff, which had outgrown the old 2,500-square-foot Town Hall, according to Town Administrator Drew Corn. Last month, most of the town staff moved into the 6,000-square-foot space at 1500 Commons Circle.
"It's a much more professional Town Hall," Corn said.
The new Town Hall is on the north side of a small office park located off of FM 407 in front of the Harvest subdivision. It houses the town's municipal court, administration staff and Town Council meeting space. Public Works now occupies all of the old Town Hall, 1400 FM 407, and the police department remains in an annex building next to that building. The police department will move into a new building near the new Town Hall next year, Corn said.
The new town hall isn't the final solution, though, Corn said. Much of Northlake is undeveloped, and the town of about 3,600 people expects a population around 45,000 at build-out, Corn said, so the town is leasing the office space it needs now so it will be easier to grow in the future.
"We didn't want to sink money into a building, because we know we will outgrow it," Corn said.