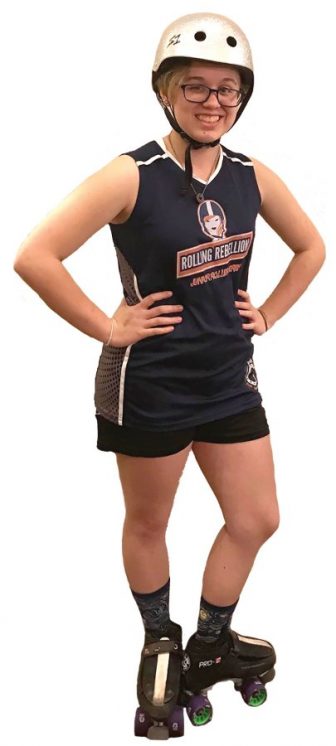 Established in 2011, Rolling Rebellion is a nationally-ranked Junior Roller Derby team for kids ages 7-17 based in Lewisville. Its motto is: "We do loud, we do fun, we do awesome."
"The team practices year 'round and most of the games are in the January to June time frame," said Media Director Chad Huffman of Lantana. "Ideally, we play at least once a month. The closest team to us is in Round Rock, so we often participate in mash ups (informal pick-up-style games) and travel quite a bit to Austin, San Antonio and Houston."
Roller derby is like most other sports in terms of training and competitions, with two teams of up to 15 players each competing for two, 30-minute periods. Positions include jammers, blockers and pivots and dedication is extremely important.
Huffman said the team is open to players from all over the Metroplex, adding that selecting a name– like Flying D-Bre, Filmore Pain and Ninja Duck– is serious business.
"The players generally pick their 'skater name' and base it around a favorite hobby or have a play on their name," he said. "It's funny, with alternate names, the kids sometimes don't know each other's actual names."
Huffman's daughter, Maddy, 14, (aka Gigabite) said she enjoys the sport because of the camaraderie with her teammates and the competitiveness.
"Roller Derby is super fun," Maddy Huffman said. "The coaches and teammates are really nice, and I really like the strategy of the game and how intense it is."
The Lantana teen said her name was chosen based on one of her hobbies.
"My name, Gigabite, is a play on a video game character," Maddy Huffman said. "I chose it because I love playing games and technology stuff."
Brandy Lou Whiting, 13, said her name went through several variations before she decided on LouNatic.
"I immediately knew I wanted to include my middle name, Lou, into my derby name," Whiting said.
"We came up with a bunch, Lou-cifer, Lou-dicrous, and so many more, but we decided to stick with LouNatic, and now it's like a second name."
Rolling Rebellion's incoming General Manager, Angela Whiting, "LouNatic's" mother, said that although she has personally never competed in roller derby herself, she fell in love with the sport, because of her daughter's enthusiasm.
"We only got involved when my then six-year old saw a practice and told me it was the 'greatest thing' she had ever seen," Whiting said. "That was eight seasons ago."
Angela Whiting said that– for her and everyone affiliated with the Rolling Rebellion– roller derby is more than a sport.
"I would hope that these kids realize that derby is a community of kids, skaters, parents, mentors coaches, referees, officials and board members whose sole purpose is to nurture teamwork and commitment, in an accepting atmosphere," she said. "Lou once told me that this was her 'tribe.' I think that's a perfect example of what I wish for as a parent and board member.
"I love the time I get to spend with Lou doing derby and even non-derby-related things. I think we have a pretty close relationship. Being able to be involved in a sport that she loves on any level gives us a common ground to communicate."
Rolling Rebellion is affiliated with the Dallas Derby Devils, an organization consisting of five flat-track roller derby teams, including the High Seas Hotties, Suicide Shifters, Wrecking Crew, Slaughterers, and Death Row Rumblers.
According to its Facebook page, facebook.com/TheRollingRebellion, "the Rolling Rebellion prides itself in its rigorous training program that takes absolute beginners with no prior skating experience and builds them into top-flight athletes."
And top-flight athletes it certainly produces, as Rolling Rebellion has been ranked as high as No. 7 in Co-Ed Junior Roller Derby Association.
Last season, four Rolling Rebellion players were named to the Junior Roller Derby Olympic team and its competitive travel team has been nationally-ranked the past three years.
"There is definitely an interest in alternative sports," Huffman said. "And, it's a fun, challenging sport."
Rolling Rebellion's next sanctioned game is on Jan. 20 at Skate Country in Waco against the Rockin' City Rebels.
For more information, visit: derbydevils.com/rolling-rebellion or call 469-630-1260.