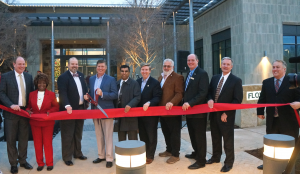 Last month, Flower Mound celebrated a major milestone – the opening of the new Town Hall at 2121 Cross Timbers Road. It is a beautiful building that the community should take pride in and enjoy for many years to come.
The transition to the new building started the first week of December when Town Hall staff moved into their new office space. On December 17, we held the official Ribbon Cutting ceremony and were joined by Commissioners Andy Eads and Bobbie Mitchell, State Rep. Tan Parker, and our Police/Fire Department Honor Guard for a memorable event.
This spring, when the project is complete, Town Hall will become a one-stop shop for residents, whether it's paying their utility bill, getting a permit through Development Services, or the many other services available to residents at Town Hall. In the coming weeks, additional parking will be created on the site of the former Town Hall so employees who work at The Atrium may make the transition to the new building this spring. This includes staff in Development Services (Planning, Building, and Inspection Services), Environmental Services (including Code Enforcement), along with the Engineering and Construction Plan Management Departments. This move will save the Town $300,000 in rent annually and will be a more cohesive work environment among the 137 employees at Town Hall.
If you stop by Town Hall, there are many outstanding features including:
Double the amount of seating in the Council Chambers
Increased seating on the Council and staff dais for joint and special meetings
90 private offices, 10 large open office areas, additional staff conference rooms
Pond and outdoor seating
Artwork display area that will be used to display community art
FMTV studio to film more in-house videos
Several Leadership in Energy and Environmental Design (LEED) strategies were used including: Water-conserving irrigation system, drought-tolerant native plants used in the landscaping, extensive glass to maximize natural lighting throughout the building, shade structures to help reduce sunlight when needed, additional insulation to reduce impact on HVAC system, LED lighting used throughout building to reduce energy load
Additional details to the building and exterior will be added in the coming weeks. The Town will host an Open House event once Town Hall is complete this spring. Please look for details on that at www.flower-mound.com in the News Flash section. In the meantime, please stop by Town Hall anytime on weekdays, from 7:30 a.m. to 5 p.m.
I hope you and your family have a wonderful 2019. The Council and I will participate in a strategic planning session with Town staff to discuss upcoming projects and priorities this month. I look forward to helping the Town make progress on initiatives that will help Flower Mound become an even better place to call home. Please feel free to reach out to me at [email protected].