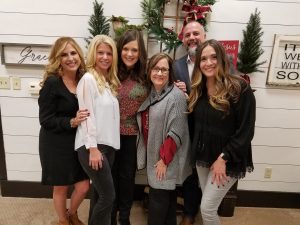 Michelle Fitzhugh, LPC., her husband, Mike, and their family have made the Argyle/Denton area their home for the past three decades. Mike is a beloved teacher and former coach at Liberty Christian School; and, Michelle is a former Liberty teacher and Christian therapist.
Early in 2018, they joined her brother, Brad Cullum, LPC– a former business executive and licensed therapist– in launching a critically-needed counseling center to serve Argyle, Denton, Southlake and surrounding communities. Redeemed Life Counseling, LLC. opened its doors in June and celebrated its grand opening Nov. 28.
In addition to her private practice, Fitzhugh serves as Executive Director. The clinical staff includes six professional counselors and counselor interns. They provide individual, couples, family, adolescent and play therapy, as well as process recovery groups.
"Our mission is to provide hope and healing for those who suffer from depression, anxiety, trauma and every form of relational distress," she said. "We are committed to a safe environment and offer professionally authentic relationships based on grace and honesty. We are honored that local schools, churches, physicians, other healthcare providers, clinicians, plus current and past clients trust us with those whom they refer."
Fitzhugh works with adolescents, individuals, couples and families. She specializes in trauma and is a Level II trained EMDR (Eye Movement Desensitization and Reprocessing) therapist.
Cullum specializes in men's issues and also works with adolescents, adults, couples and families. He too specializes in trauma and is Level II EMDR trained.
"We are so proud to have on our team: Cara Strickland (children, adolescents, individuals, marriage and family); Serena Trimmier (children, adolescents and young adults); Sherry Allen (children, parenting, couples, individuals); and, Ashleigh Stateson (children, adolescents, and individuals)," Fitzhugh said. "Our team works collaboratively to address the family system for real and lasting transformation."
The counseling center is located at 415 South U.S. Highway 377 (north of FM 407), Suite 102 in the heart of Argyle. For more information, call 940-222-8552, or email: [email protected]