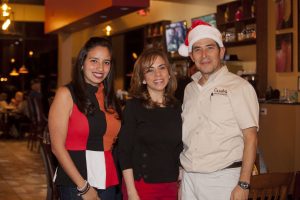 The year 2018 has truly been a landmark one for Luis Bencomo, wife, Carmen Guevara, and their family.
Earlier in 2018, the Venezuela natives officially became United States citizens. Then in November, they brought the first Tex-Mex restaurant to Lantana, with CasaMia, in Lantana Town Center.
This is the family's second restaurant, after Mi Taza opened in 2011 near Guyer High School. They are building a third, near the Dallas Cowboys' Star in Frisco.
But, as daughter and manager Andreina said, "CasaMia serves its food with a twist."
At CasaMia, Andreina oversees the logistics, wait staff and menu, Carmen takes care of the hiring, and Luis manages the ordering. They all are excited because of the hospitality shown them by their neighbors and plan to be open seven-days-a-week and offer weekend brunch early in 2019.
"The reason we're different is we're Tex-Mex– and that's what people like– but we try to be as authentic to the Mexican part," she said. "And we're also doing a lot of specialty plates from different areas, which are not part of the main menu. We do things with a Latin flair."
All three travel frequently and have brought back many of the unusual dishes they've tried that already have proven popular, since their clientele also tends to be well-traveled.
When not at their restaurants or traveling, Luis, Carmen and Andreina can be found teaching students in the Dallas school district. Luis, who taught in Denton for 10 years, was a general construction contractor back home and still does some here. Son Carlos is in financial investments in Austin.
Carmen first visited the U.S. in the early 1990s to learn English to help grow international business at the bank where they lived. When they started seeing turmoil brewing in their country, they decided to move to Texas. They spent their early years in America struggling to make ends meet, while trying to work their way through the system spending plenty of time and money on lawyers and fees and paperwork.
"My parents were typical immigrants working four or five jobs," Andreina said. "I was doing my homework in the back of a Ford Fiesta.
"It's a good story, but it's also a hard one. A lot of people I've come to know– especially as a teacher –are like I was at six-years-old. It's bizarre. You come to know it takes a lot of courage and a lot of determination and a lot of self-will to do what my parents did. We're where we are today and can only go up because we've definitely been down."