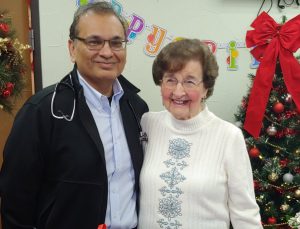 One year ago, Dr. Jalil Khan– an internal medicine physician in Lewisville– promised Ada Hodges Dobie he would throw a party for her at his office to celebrate her 100th birthday.
On Dec. 19, he was able to fulfill his obligation when he, his Pri-Med Care staff and family and some members of her family joined her to celebrate. Two days later, her entire family congregated on her actual birthday at a dinner at Salerno's in Flower Mound.
In addition to the usual birthday cake and snacks, Dr. Khan and his staff presented Dobie with a bottle of wine and a 100th-birthday card that said, in part, that he intends to keep her well for another 100 years.
Anyone meeting Dobie for the first time can tell she's lived a good life, but would never believe her actual age. She seems much younger and the picture of good health, which she credits to good genes (both her parents lived to age 94), the care of Dr. Khan, a 65-year marriage to her late husband, Arthur,  plus a glass of wine at 5 p.m. each day for the last 20 years.
"And no more or no less," she said of her wine ritual. Her daughter Flora said she also takes no major medications.
Even at her advanced age, she lives alone in a regular apartment in Lewisville and drove her car until a little over a year ago, when son Mike decided it was time for her to give it up.
"I told Mike 'I would drive to the store, but you took my car away. I would drive to the doctor, but you took my car away,' " she said. "He said I was old enough."
Mike and wife, Patti, his sister, Flora, her husband, Corbin Tayloe– who live in Double Oak– are the major reasons Dobie chose to move to Texas 12 years ago, from her long-time home in Roanoke, Virginia.
"After my Dad died, she stayed in Roanoke for about six years, then made the decision herself to move to Texas," said Flora, who picks up Ada almost every night and brings her to her house.
"I had a hard time giving up my house," said Ada, who had lived in the same house she and Arthur bought in 1961. He died in 2001.
Like most people who reach 100, she doesn't like to tell her age, or the age of her children, which would reveal her age.
While she did work for a doctor for a year or two, Dobie spent much of her life as a stay-at-home mother to Mike, Flora and son Gary, who lives in Florida. They, her four grandchildren and seven great-grandchildren, helped her celebrate her actual birthday.
Being at home for so long allowed Dobie to hone her cooking and baking skills, especially her individually-sliced and wrapped lemon pound cake and homemade strawberry jam.
"She likes to do things on her own," Flora said. "And she eats just anything she likes."
And, that evening glass of wine.